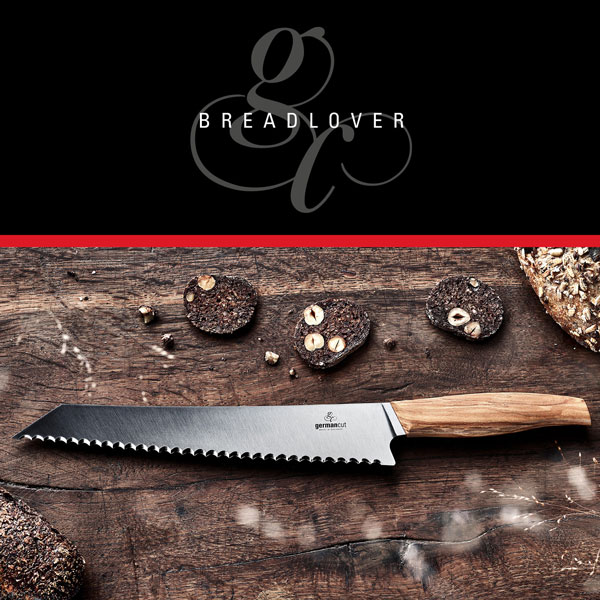 BREADLOVER –
THE INNOVATIVE BREAD KNIFE
This fantastic bread knife impresses with outstanding
handling thanks to the double-sided serrated edge.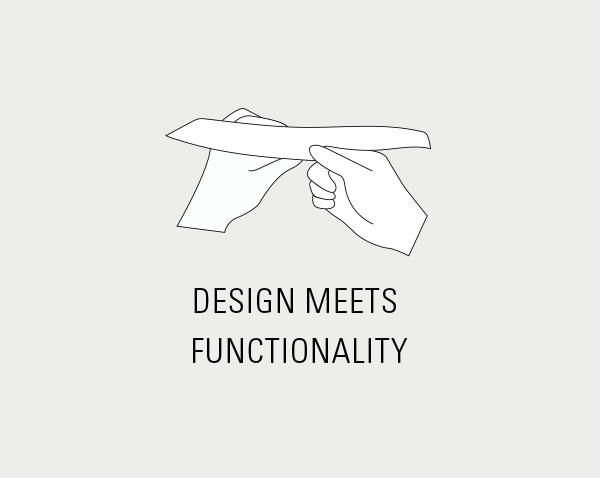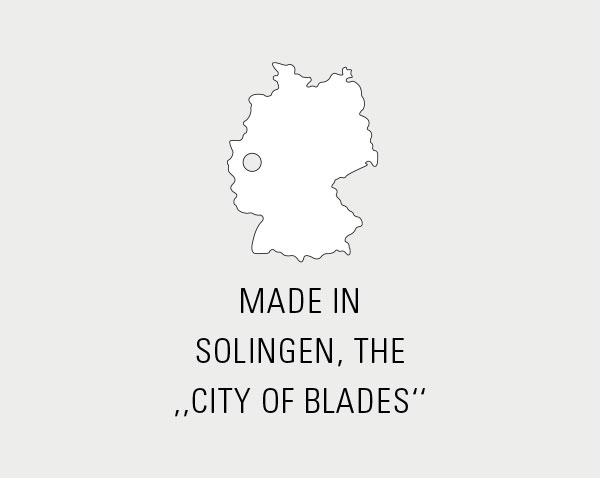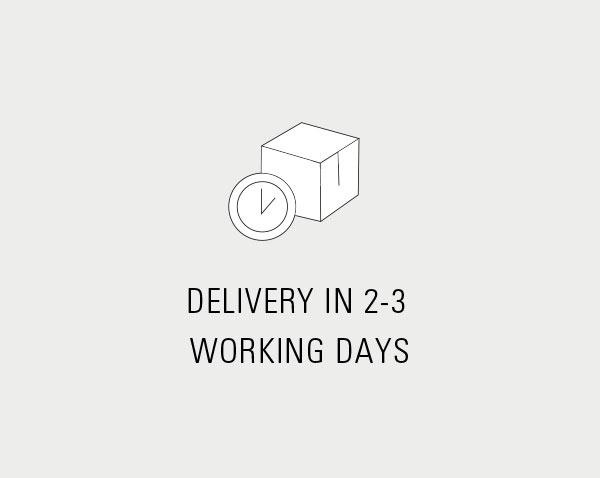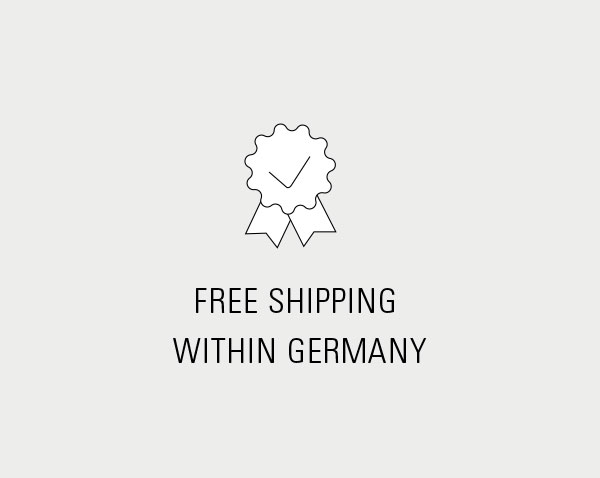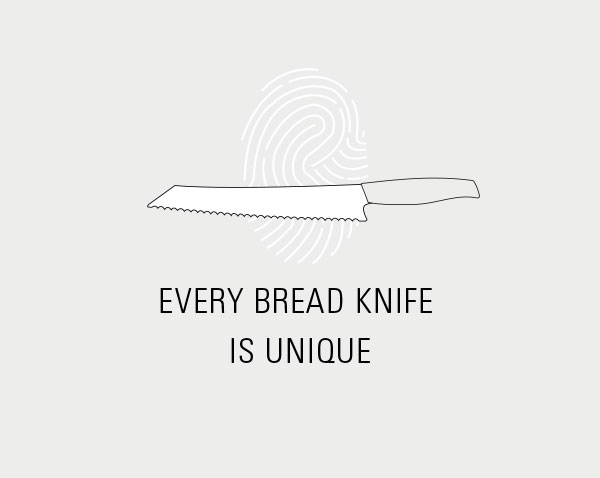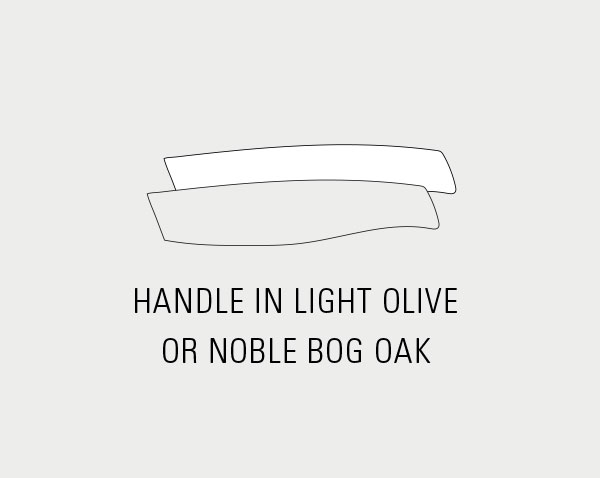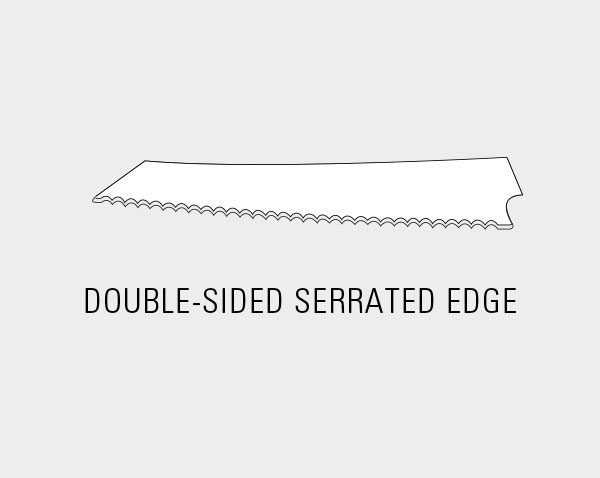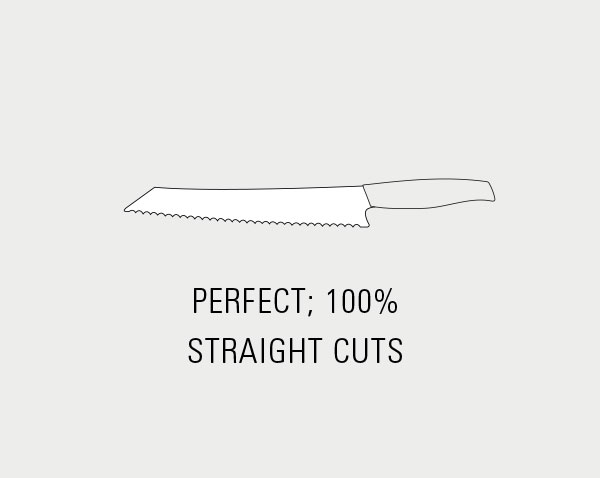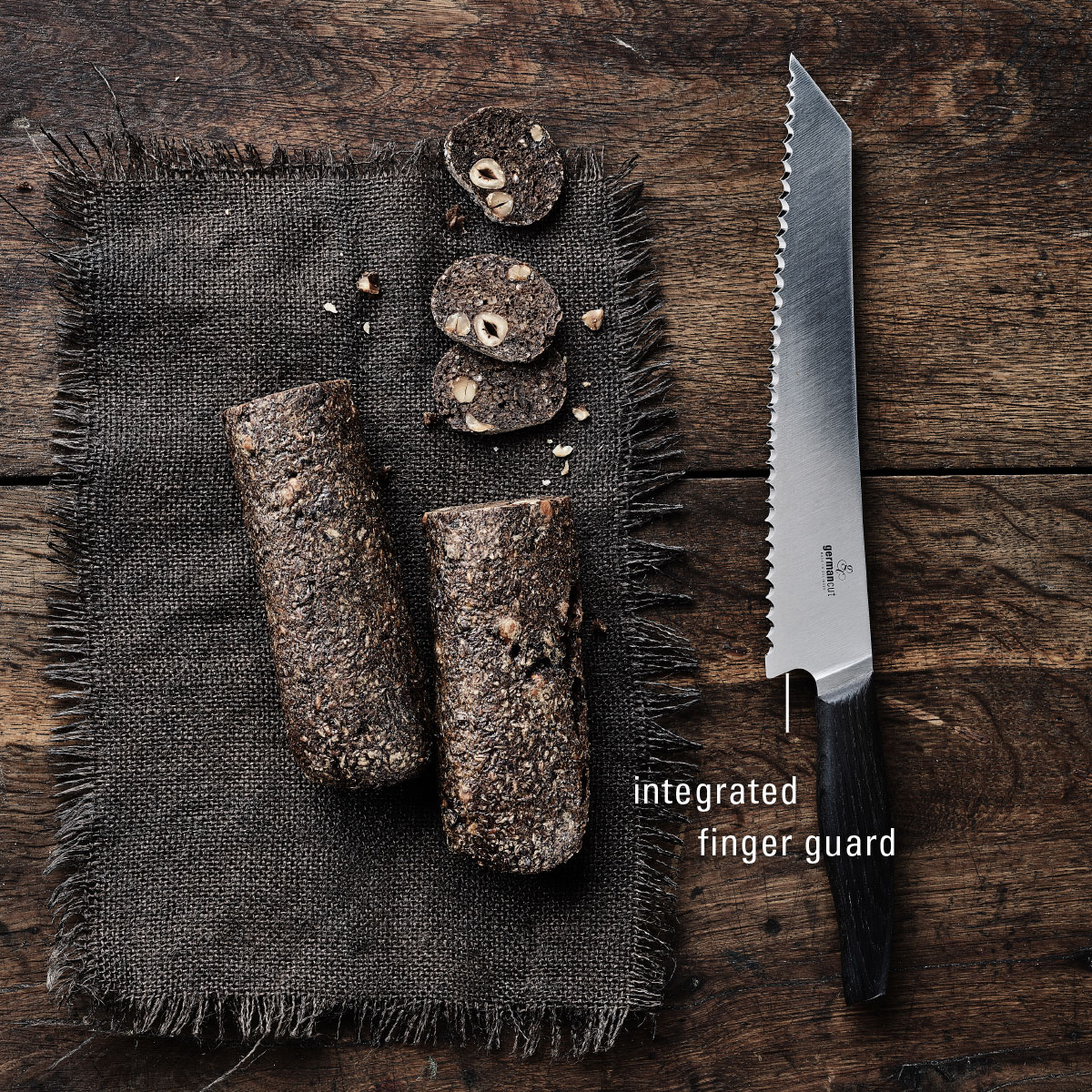 BREADLOVER, THE BREAD KNIFE
We designed the BREADLOVER so that it really is suitable for all types of bread.
Thanks to its blade length and its double-sided serrated edge, our bread knife glides through every loaf and allows for precise working and accurate cuts.
Thanks to its exceptional blade shape, its serrated edge and its elegant natural wood handle, the bread knife also has a striking appearance – our bread knife is real manufacturing artistry from Solingen.
When cutting bread, there are some challenges to consider. Hard crusts often require far too much pressure in order to break through the crust with a normal bread knife, and the bread is squashed as a result. Conventional bread knives are also likely to tear soft breads more than they cut them, forming an unattractive crumb. Not so with our Breadlover …
HANDLES AND ERGONOMICS
Our bread knives are unique pieces. Our handles made from natural wood make sure of it, making each knife a unique item thanks to their unique grain.
Elegant brownish to black bog oak or expressively light olive highlight the exceptional style of the bread knives.
Pieces of oak which survived for thousands of years in bogs and have now been recovered, to subsequently be dried and worked to form a perfect knife handle, are used for the bog oak handles on our bread knives.
The olive wood, in turn, wins people over with its expressive grain and comes from wild olive trees. Wood is a natural product, and the color and grain may vary. Since the aesthetic of our bread knife is, of course, not the be all and end all, the handle on our kitchen knives is ergonomically shaped and therefore sits beautifully in your hand while working. The handle and the blade on our bread knife are perfectly matched, making cutting with this bread knife a real pleasure.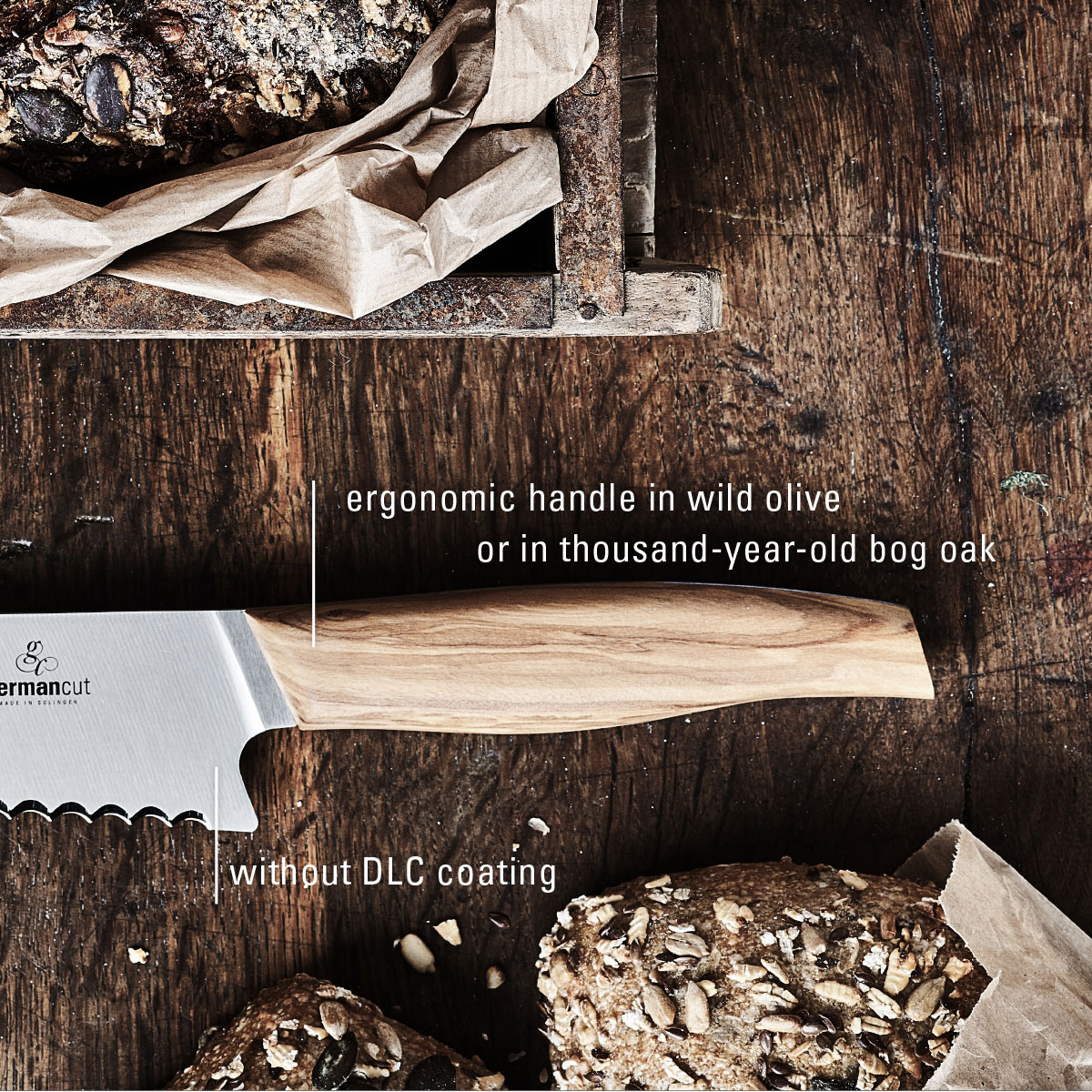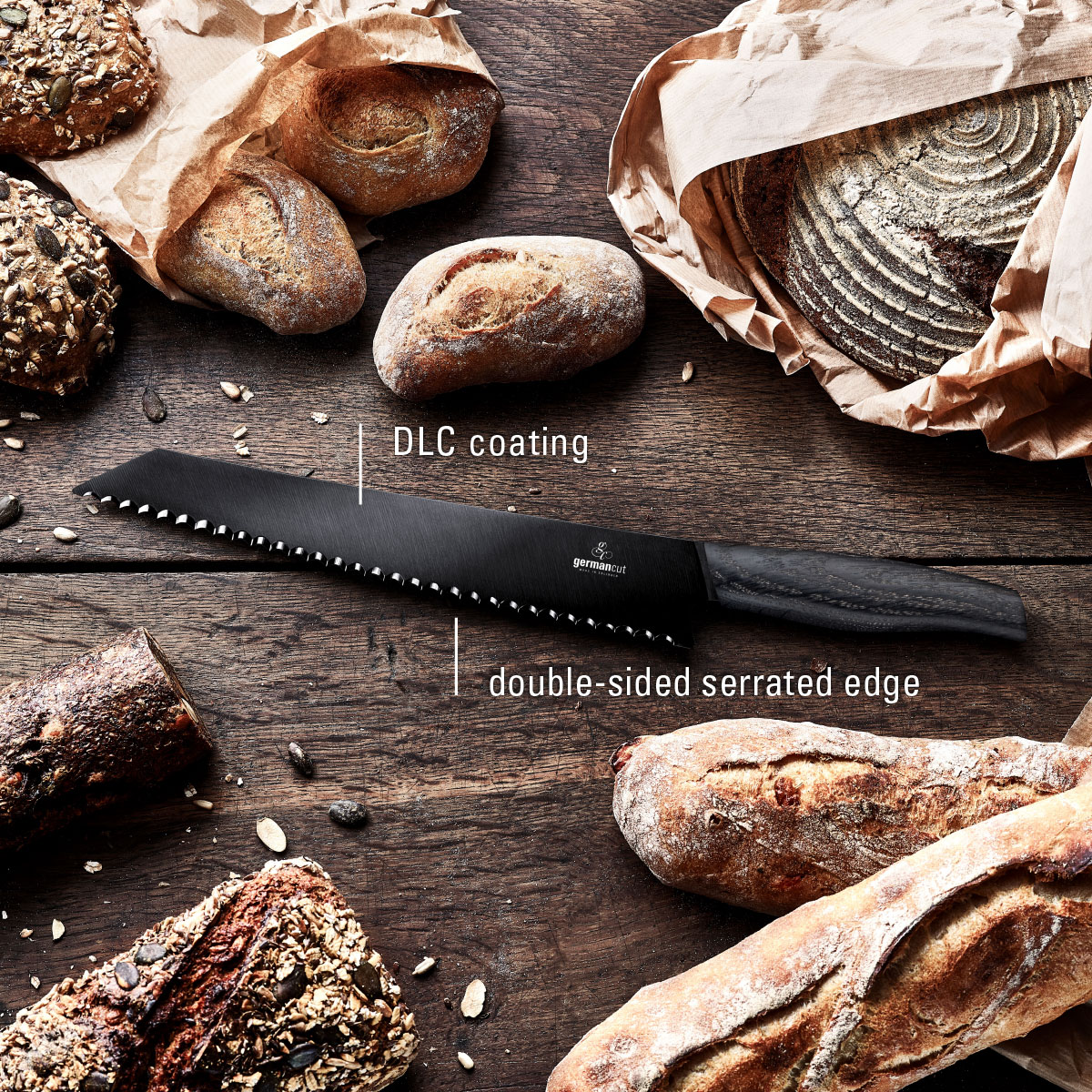 THE DOUBLE-SIDED SERRATED EDGE AND THE DLC COATING
Thanks to the serrated edge of the BREADLOVER, which is sharpened on both sides, the bread knife glides through every loaf and ensures the perfect cut for both left-handed and right-handed users. And it's not just crusts that the bread knife handles with ease, hard fruit and vegetable skins are no problem for the BREADLOVER either.
Our bread knives are available in a variant with DLC coating. The diamond-like carbon coating is a finish that gives the blade an unmistakable black color. The diamond-like carbon coating on our bread knives also optimizes the blade properties, ensuring that the bread knife stands up to the toughest demands.
The special coating on the bread knife also ensures enhanced resistance to acids, alkalis and extreme temperatures and gives the bread knife high scratch resistance and a low coefficient of friction. Of course, the BREADLOVER is also available as a variant without the coating.
Every bread knife is unique
Once you have cut a perfect slice of bread with this knife, you will probably never want to use another bread knife again.
The serrated edge, sharpened on both sides, glides completely effortlessly through even the hardest crusts, and the ergonomics of the bog oak handle guarantee comfortable handling. With the BREADLOVER, cutting bread is no longer a challenge, but becomes a real pleasure.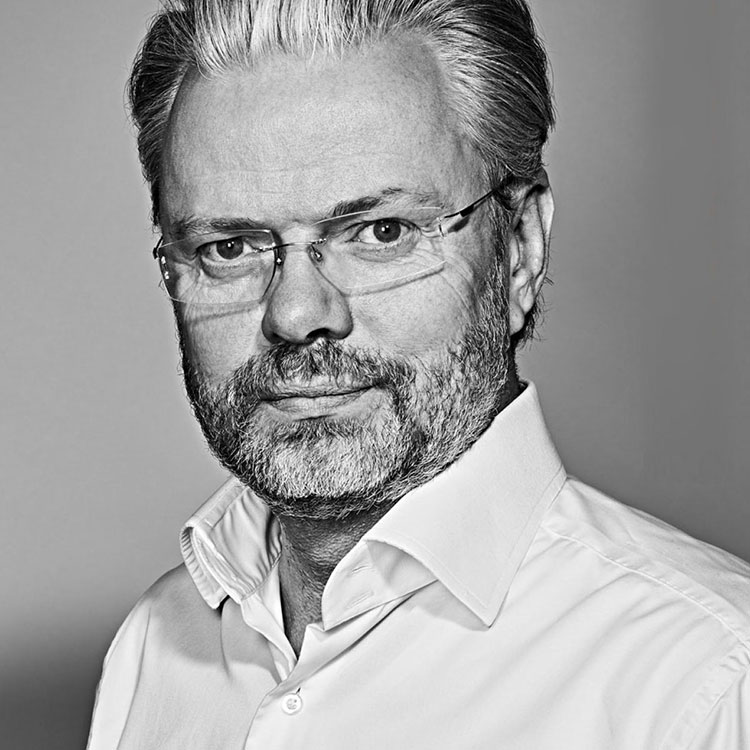 About Germancut:
What drives us
"At a time when the price is often the most important purchase criterion and many Asian products are flooding the market, we want to return to the strengths of the term "Made in Germany."
Traditional production methods for cutlery and chef's knives from Solingen with innovative, modern and yet timeless design – that's what I founded the Germancut brand for. My experience from more than 16 years of successfully co-designing and developing excellent knife products and knife brands are the basis that helps me achieve just that. I would be delighted if I could convince you, too, of true value workmanship – Made in Solingen."
Yours, Alexander Tonn
Owner of Germancut
CONTACT
Recommended by professionals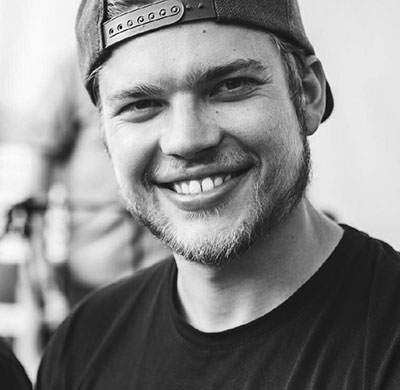 DerGrilltyp (The grill guy) – Yannik Vinke
"The Breadlover is a great piece of equipment. It doesn't matter if you're cutting a big loaf of fresh bread or a huge head of cabbage – cutting it really 'shreds!"

Yannik Vinke, aka "DerGrilltyp," mixes up the BBQ scene on TikTok and Instagram – and inspires over 250,000 followers with creative recipes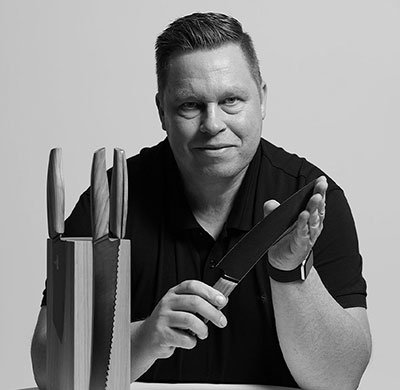 BigBBQ – Oliver Gawryluk
"This is how a bread knife should cut! I have become an absolute fan of the BREADLOVER and use it practically every day."

Oliver Gawryluk, aka "BigBBQ," is a "cult" blogger with over 300,000 barbecue fans on Instagram – and an absolute passion for the best products.