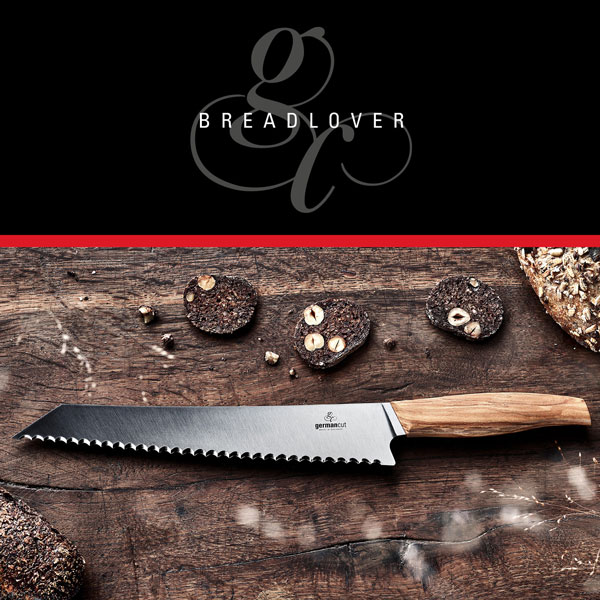 BREADLOVER –
THE INNOVATIVE BREAD KNIFE
This fantastic bread knife impresses with outstanding
handling thanks to the double-sided serrated edge.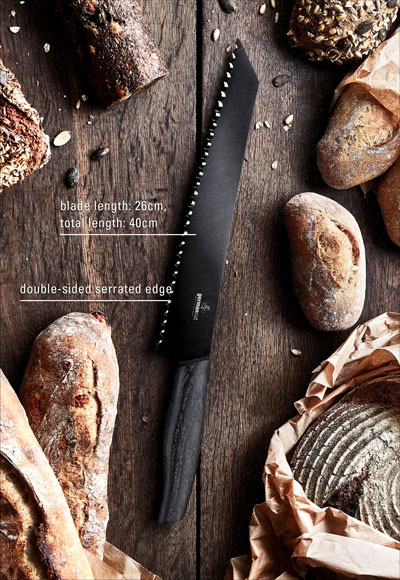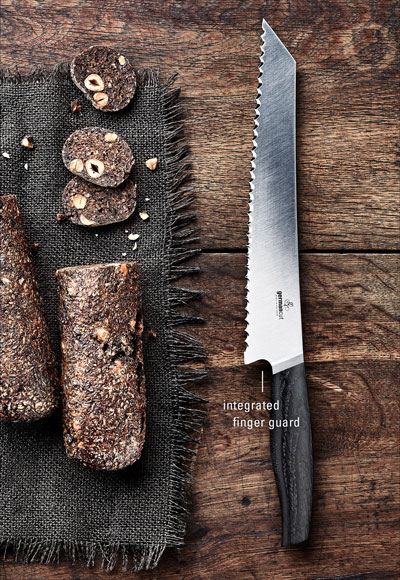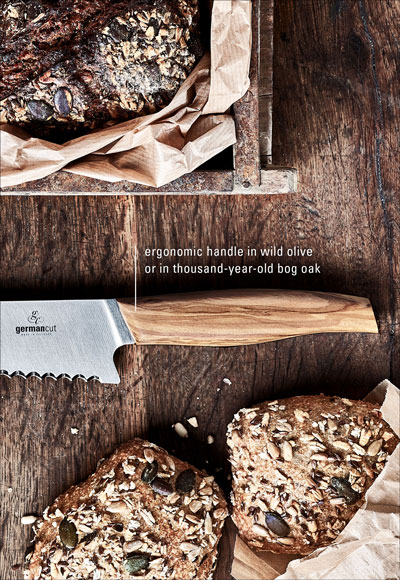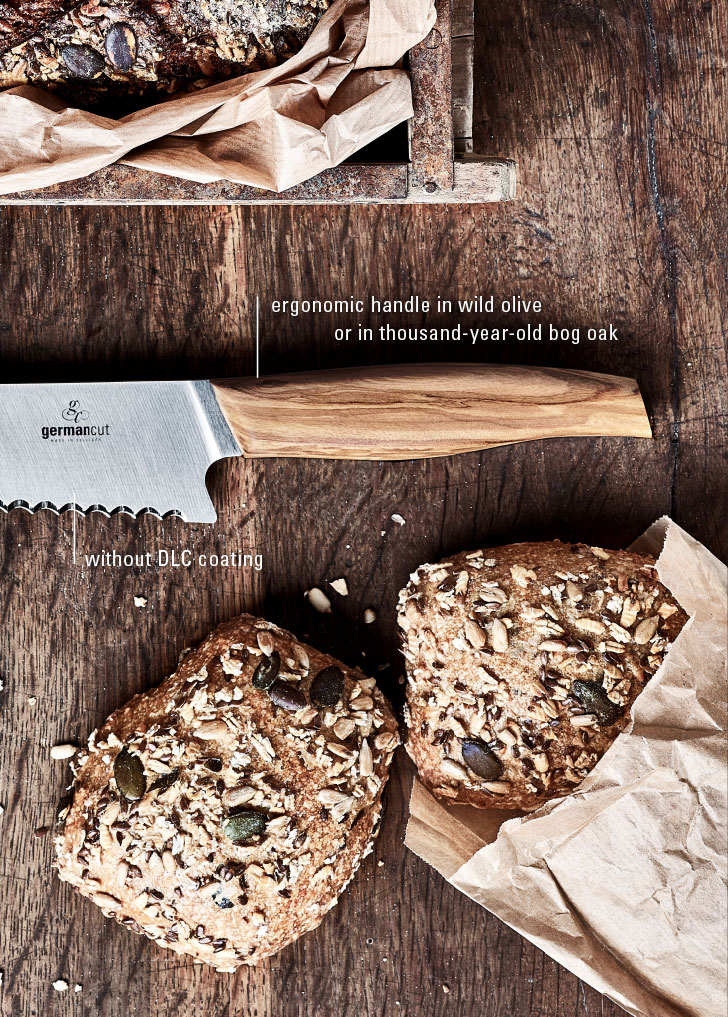 BREADLOVER, THE BREAD KNIFE
We designed the BREADLOVER as a bread knife so that it really is suitable for all types of bread. Thanks to its blade length and its double-sided serrated edge, our bread knife glides through every loaf and allows for precise working and accurate cuts. Thanks to its exceptional blade shape, its serrated edge and its elegant natural wood handle, the bread knife also has a striking appearance – our bread knife is real manufacturing artistry from Solingen.
Every professional knows that even cutting the ever-popular bread is a challenge for bread knives and those cutting it. Hard crusts often require far too much pressure in order to break through the crust with a normal bread knife, and the bread is squashed as a result. Conventional bread knives are also likely to tear soft breads more than they cut them, forming an unattractive crumb.
THE DOUBLE-SIDED SERRATED EDGE
Thanks to the serrated edge of the BREADLOVER, which is sharpened on both sides, the bread knife glides through every loaf and ensures the perfect cut for both left-handed and right-handed users. And it's not just crusts that the bread knife handles with ease, hard fruit and vegetable skins are no problem for the BREADLOVER either.
HANDLES AND ERGONOMICS
Our bread knives are unique pieces. Our handles made from natural wood make sure of it, making each knife a unique item thanks to their unique grain.  Elegant brownish to black bog oak or  expressively light olive highlight the exceptional style of the bread knives.
Pieces of oak which survived for thousands of years in bogs and have now been recovered, to subsequently be dried and worked to form a perfect knife handle, are used for the bog oak handles on our bread knives. The olive wood, in turn, wins people over with its expressive grain and comes from wild olive trees. Wood is a natural product, and the colour and grain may vary. Since the aesthetic of our bread knife is, of course, not the be all and end all, the handle on our kitchen knives is ergonomically shaped and therefore sits beautifully in your hand while working. The handle and the blade on our bread knife are perfectly matched, making cutting with this bread knife a real pleasure.
DLC COATING
Our bread knives are available in a variant with DLC coating. The diamond-like carbon coating is a finish that gives the blade an unmistakeable black colour. The wafer-thin carbon layer not only gives the bread knife an unmistakeable appearance, it also optimises the cutting performance – unparalleled design and unbelievable sharpness.
The diamond-like carbon coating on our bread knives also optimises the blade properties, ensuring that the bread knife stands up to the toughest demands. The special coating on the bread knife also ensures particular resistance to alkalis and extreme temperatures and gives the bread knife high scratch resistance and a low coefficient of friction.
Of course, the BREADLOVER is also available as a variant without the coating.
Not just our bread knives, but each of our products is top quality and real craftsmanship Made in Germany. Take a look at our cutlery sets as well as our CHEFSTALK KNIFE professional chef's knife and our MEATLOVER chef's knife.