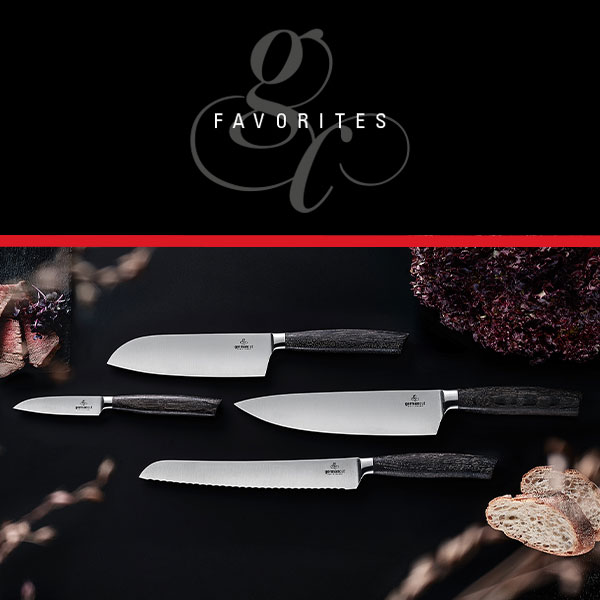 FAVORITES –
forged Solingen tradition
Chef's knife, bread knife, santoku & paring knife – this high-quality set
is a real all-rounder and an absolute must-have for every kitchen.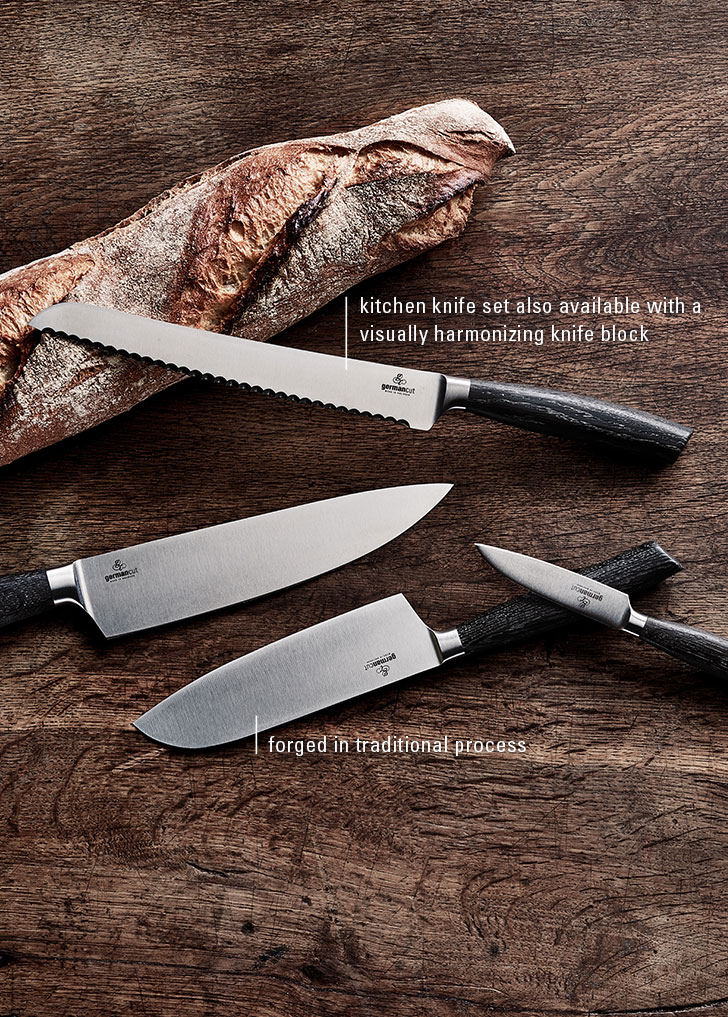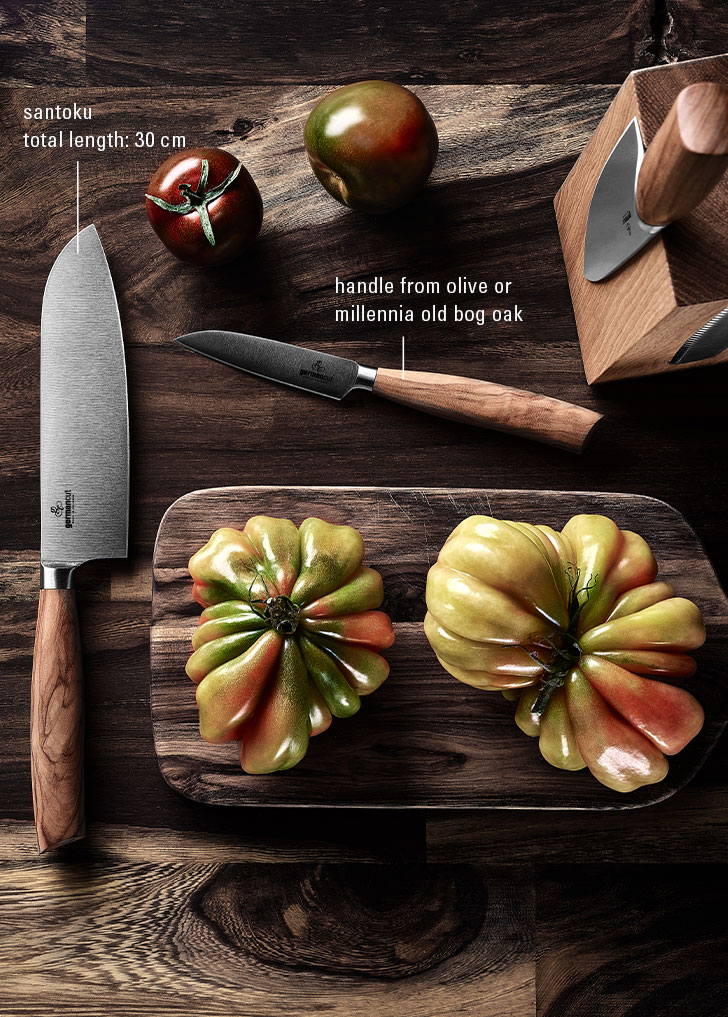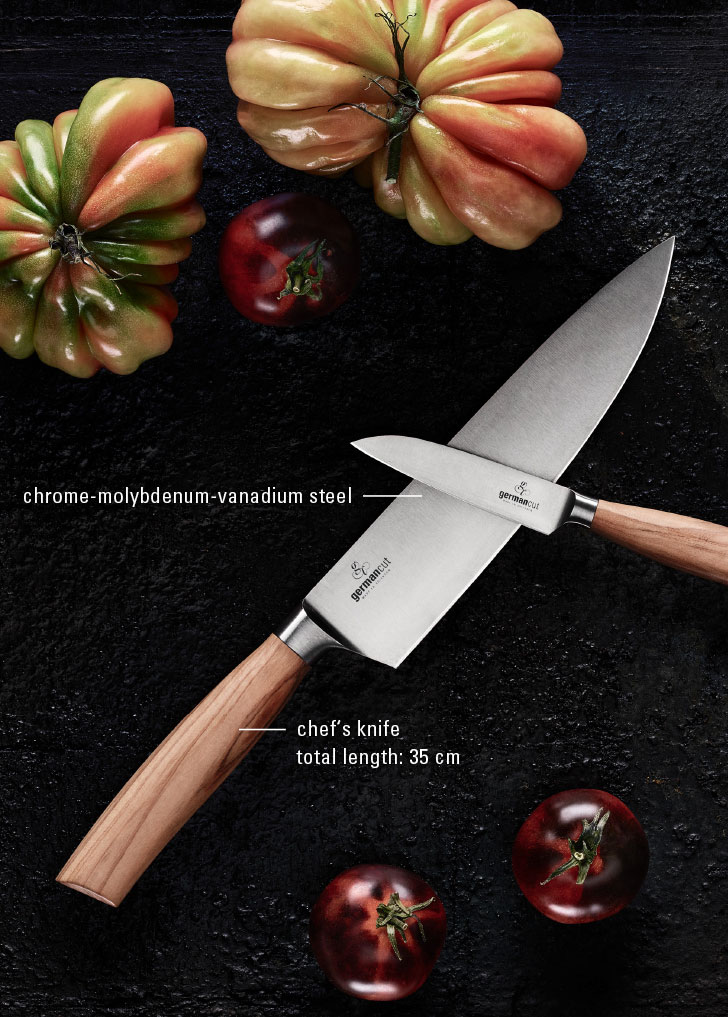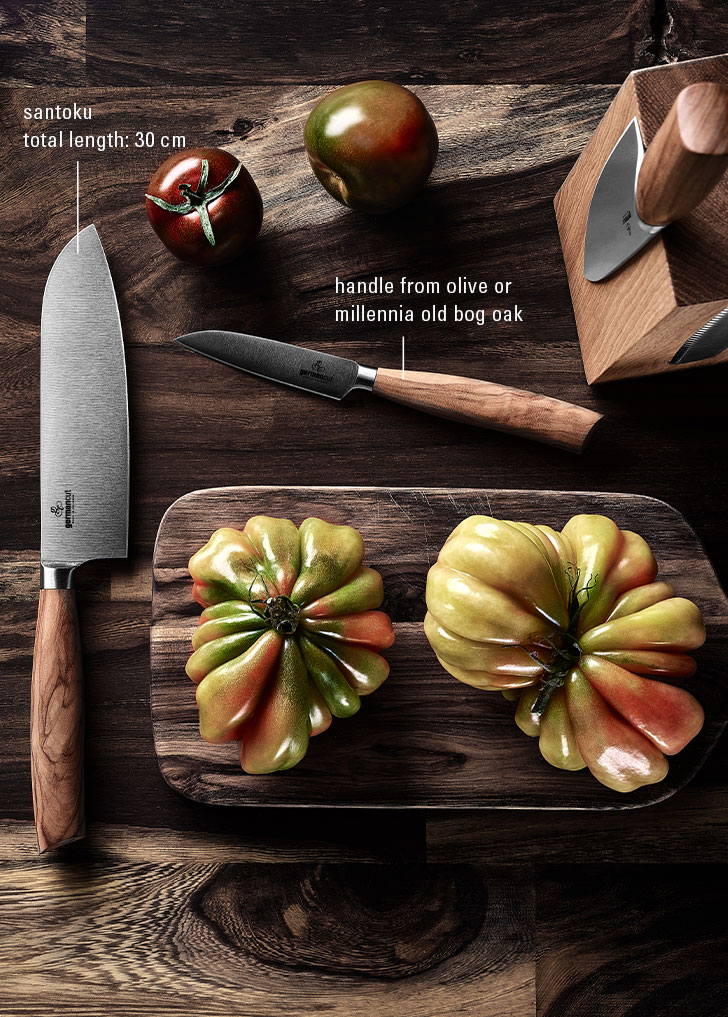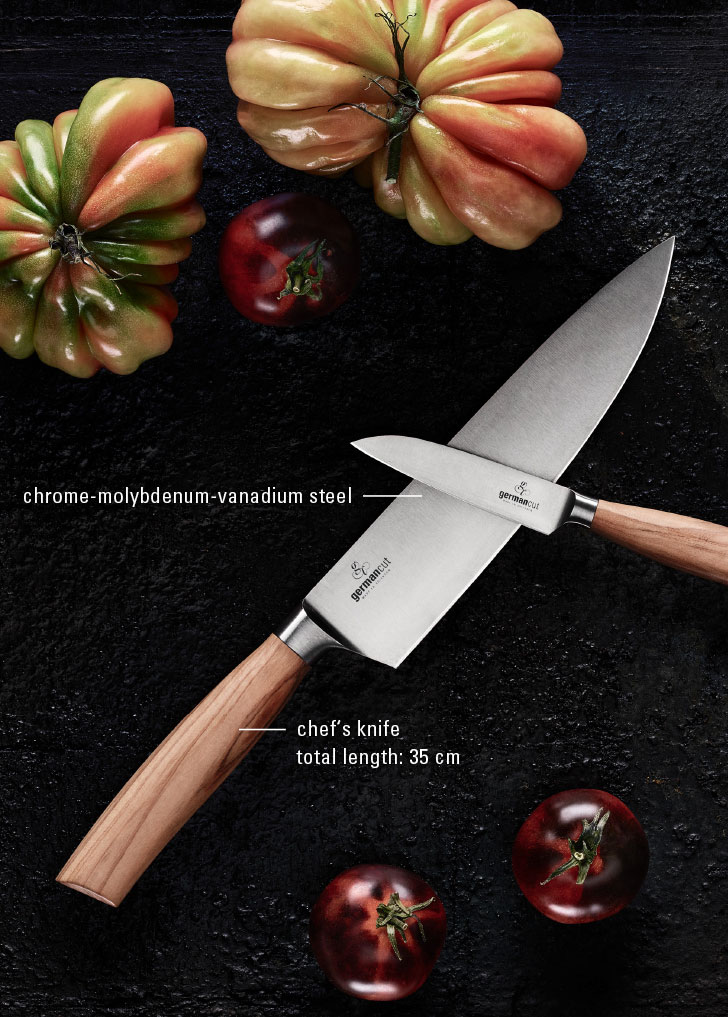 FAVORITES
High-quality knives are the basis for the preparation of exquisite dishes. This knife set is forged in the old Solingen tradition – it is ice-hardened and was specially designed for precise as well as enjoyable work.
FAVORITES, the knife set
In order to process various foodstuffs in a high-quality and precise manner, you need various knives that have been designed precisely for specific purposes and are true professionals in their field to perform culinary masterpieces. That's why every kitchen – whether it's an ambitious hobby chef or a star chef – needs a set of knives, and a quality set at that, or more precisely a set like our FAVORITES knife set. In elaborate procedures Germancut determined the ideal blade shape for superior cutting results, because working with our FAVORITES set and all our knives should be a pleasure and just as professional and enjoyable as the food that is prepared with the set. That is why our knives and knife sets are made with a lot of know-how, meticulousness and attention to detail. The knives from our set are real workmanship – Made in Germany.
The FAVORITES set consists of a selection of excellent knives – included in the set: a classic chef's knife, a Japanese Santoku, a small and agile paring knife and a characteristic bread knife.
Ice hardened knives in the set
The set and all knives of the FAVORITES series are forged in a traditional process, thus the steel is compressed and gains enormous strength. Additional forming creates a very fine structure, which has a positive effect on the edge retention. To ensure that the blades of FAVORITES knives are elastic and at the same time extremely resilient, they are quenched in oil and "ice-hardened" as blanks after forging. The right hardness and the fine grain allow the knives of the knife set a high degree of sharpness. The steel used for our knives is exclusively carbon-chrome-molybdenum-vanadium steel (X 50 CrMoV 15), which provides an optimal balance of rust resistance and edge retention. This set is an asset to any kitchen.
Handles, ergonomics and handling
The perfect balance between the blade and the handle of our knives, in combination with the excellent ergonomics of our knives, ensures comfortable handling. The handles of our FAVORITES set are made of noble bog oak, which has survived thousands of years in the bog and was processed in an elaborate procedure, and distinctive, light olive wood from wild olive trees in the Mediterranean region. The matching oak knife blocks are available in dark for the knives with bog oak handle and light for the knives with olive wood handle.
The exclusive Germancut knife block – matching the set.
On request, the kitchen knife set is also available with an optically perfectly harmonizing knife block – in olive wood or bog oak look. Inside the block made of oak is a practical magnetic holder that guarantees the knife set a firm fit and stylishly presents the perfectly shaped knives.
In addition to our favorites, feel free to check out our other premium kitchen knives as well as other items: the Bread knife BREADLOVER, the Chef's knife MEATLOVER the Filleting knife CHEFSLOVER and our noble fine cutlery sets. On our blog you will find a lot of information about our kitchen knives and Things to know about knife handling and care of your knives, as well as information about our cutlery sets and accessories.