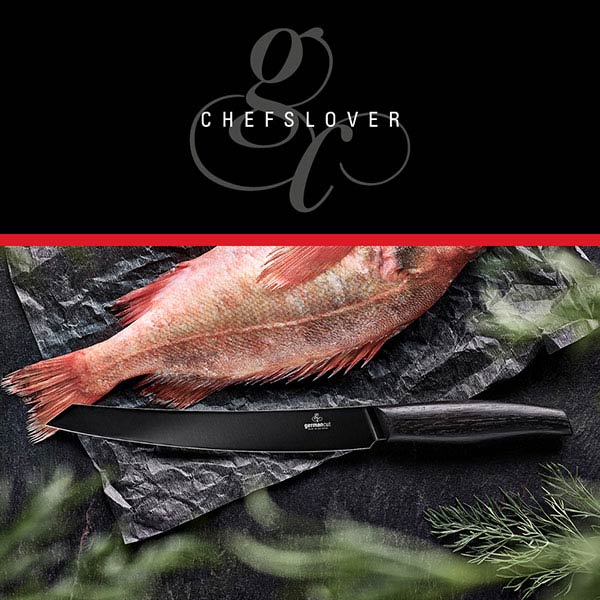 CHEFSLOVER –
the elegant slicer.
This outstanding kitchen knife is a first-class filleting knife
and designed for particularly delicate cuts and accurate work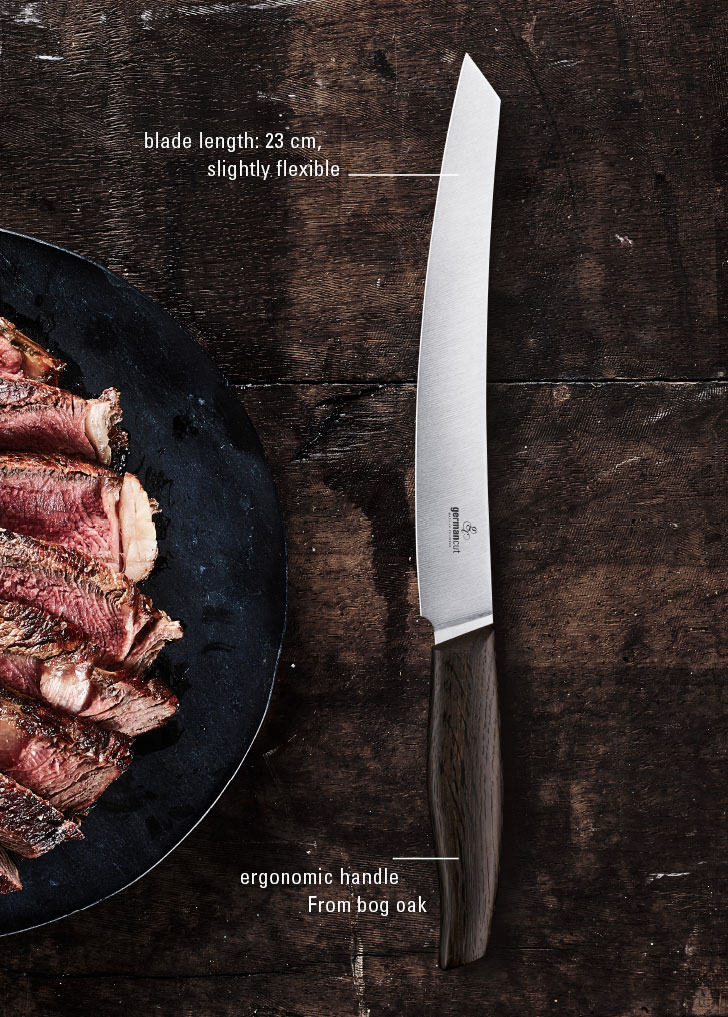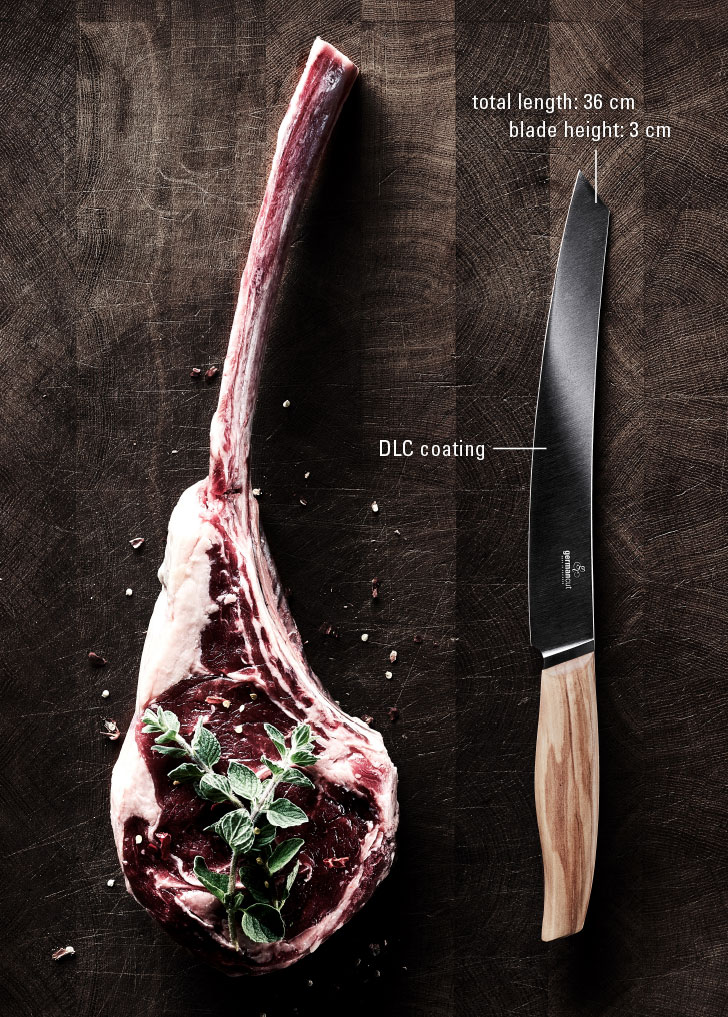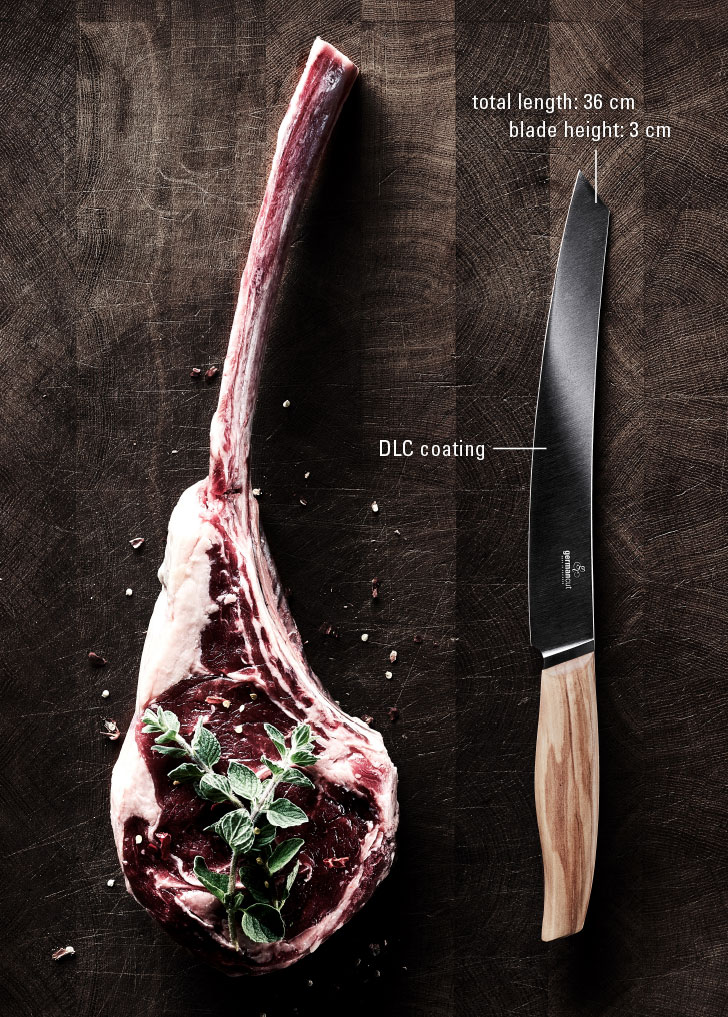 Chefslover – The slicer
The CHEFSLOVER is designed as a slicer by us that the characteristic kitchen knife is particularly well suited for paring and filleting – it is the perfect filleting knife. With its slightly flexible blade and special length, our slicer glides perfectly through any food and allows you to work precisely and make accurate cuts. Such a first-class kitchen knife and professional filleting knife simply belongs in every kitchen.
Filleting knife made of Sandvik steel – Made in Solingen
Our fillet knife CHEFSLOVER is first-class German workmanship. All our Germancut kitchen knives are excellent manufacturing art – Made in Germany – and from the blade city of Solingen. The blade of the CHEFSLOVER is made of high performance, fine Sandvik steel, which gives the slicer incredible hardness. The blade of the elegant kitchen knife is sharpened on both sides and is suitable for both left-handed and right-handed users and enables highly precise work with our filleting knife.
Diamond-Like Carbon Coating
The CHEFSLOVER is available in two versions. On the one hand, you can choose the slicer as an uncoated version or you can opt for the filleting knife with a high-quality Diamond-Like-Carbon coating. This ultra-thin carbon layer optimizes the properties of the fillet knife blade, which allows it to withstand heavy use. In addition, the special DLC coating ensures insensitivity to bases, extreme temperatures and temperature fluctuations, it leads to high scratch resistance in our slicer and ensures low friction values.
DLC technology not only optimizes the cutting performance of our kitchen knives, it is a finishing that gives the blade a distinctive blackness – the same with our fillet knife. Incomparable design and incredible sharpness – our CHEFSLOVER fillet knife is a highlight all around.
Handle and ergonomics – perfect handling of our filleting knives
The handle of our high-quality slicer also contributes to the unique look of the CHEFSLOVER. Noble dark bog oak (brownish to black) or striking light olive give the kitchen knife a perfectly shaped style. Since we at Germancut only use natural wood, each handle and each kitchen knife is unique – for the wood of the bog oak, we use pieces of oak that have survived over thousands of years in the bog, the olive wood comes from wild-grown trees and convinces with its expressive grain. Of course we know that aesthetics is not everything, that's why the handles of all our kitchen knives are ergonomically shaped, this is exactly what makes working with our slicer CHEFSLOVER so pleasant, because the fillet knife handle is enormously hand-flattering. In addition, our excellent fillet knife has the perfect balance between the handle and the blade – as with every single one of our kitchen knives.
High quality kitchen knives for every challenge
As a slicer, the CHEFSLOVER is a true specialist for the kitchen and can be used for paring and filleting special foods. With its sharp cutting edge, the filleting knife glides effortlessly through all ingredients and enables the finest cuts. The CHEFSLOVER advances to the favorite tool of ambitious professional chefs and ambitious hobby chefs – it is the optimal knife for the perfect cut.
In addition to our fantastic filleting knife CHEFSLOVER, you are also welcome to take a look at our other first-class kitchen knives as well as other articles: the Bread knife BREADLOVER, the Chef's knife MEATLOVER the paring knife VEGGIELOVER and our noble Cutlery set. On our blog you will find a lot of information about our kitchen knives and
Things to know about knife handling and caring for your knives, as well as information about our cutlery sets and accessories.