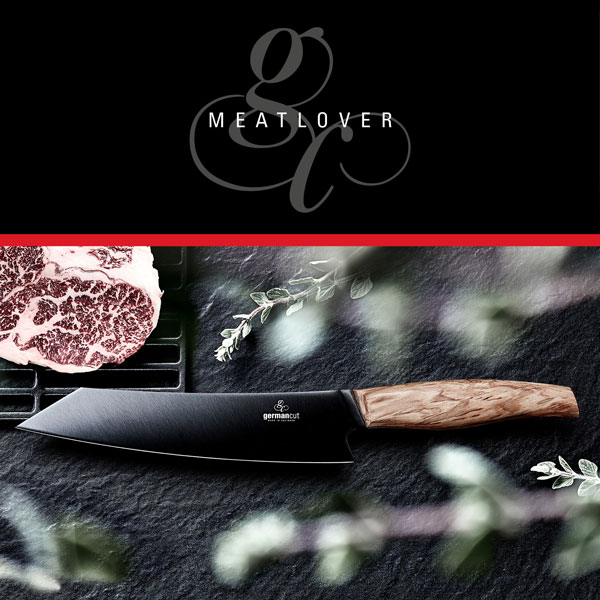 MEATLOVER – THE ERGONOMIC CHEF'S KNIFE
This exceptional chef's knife stands out with its perfect ergonomics

and its particularly sharp edge.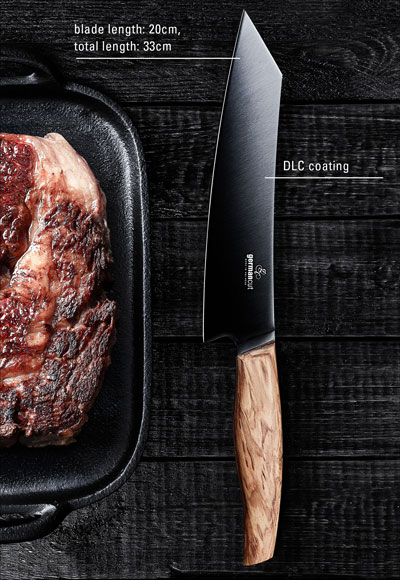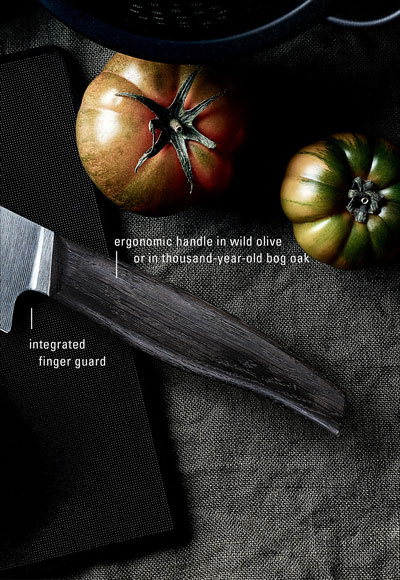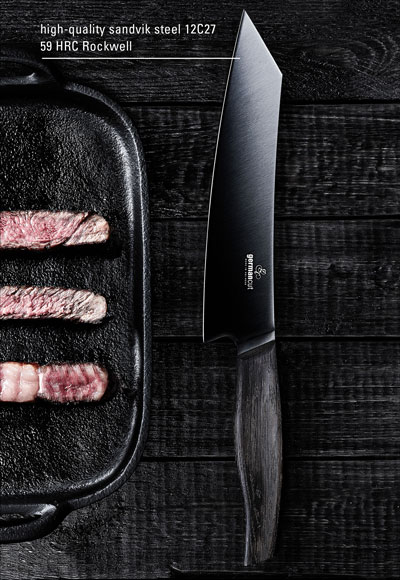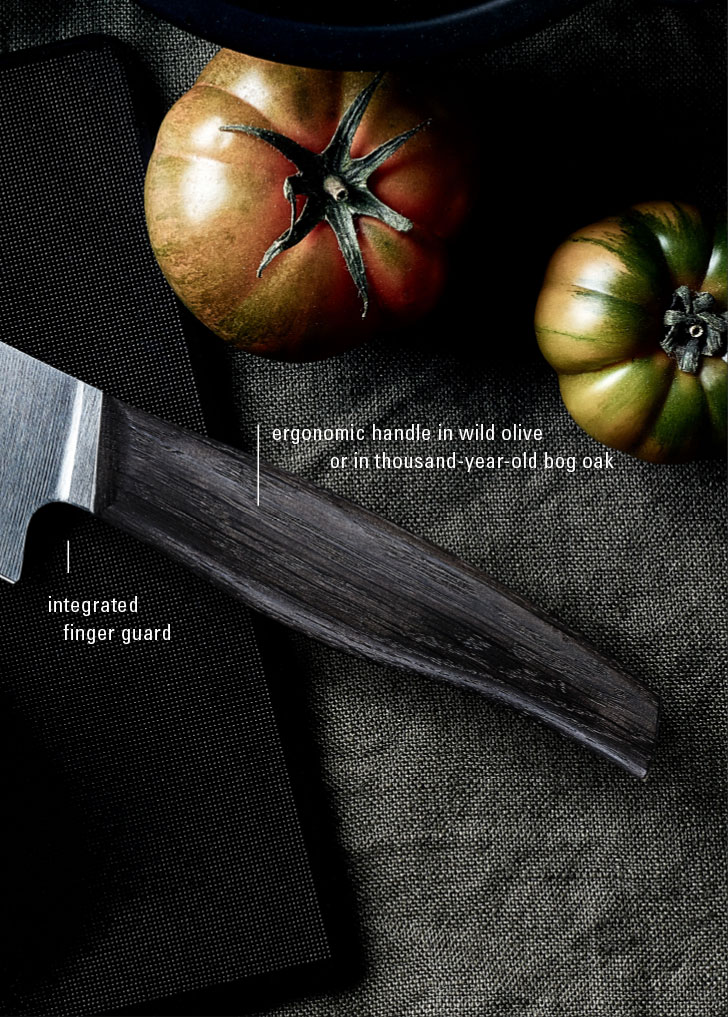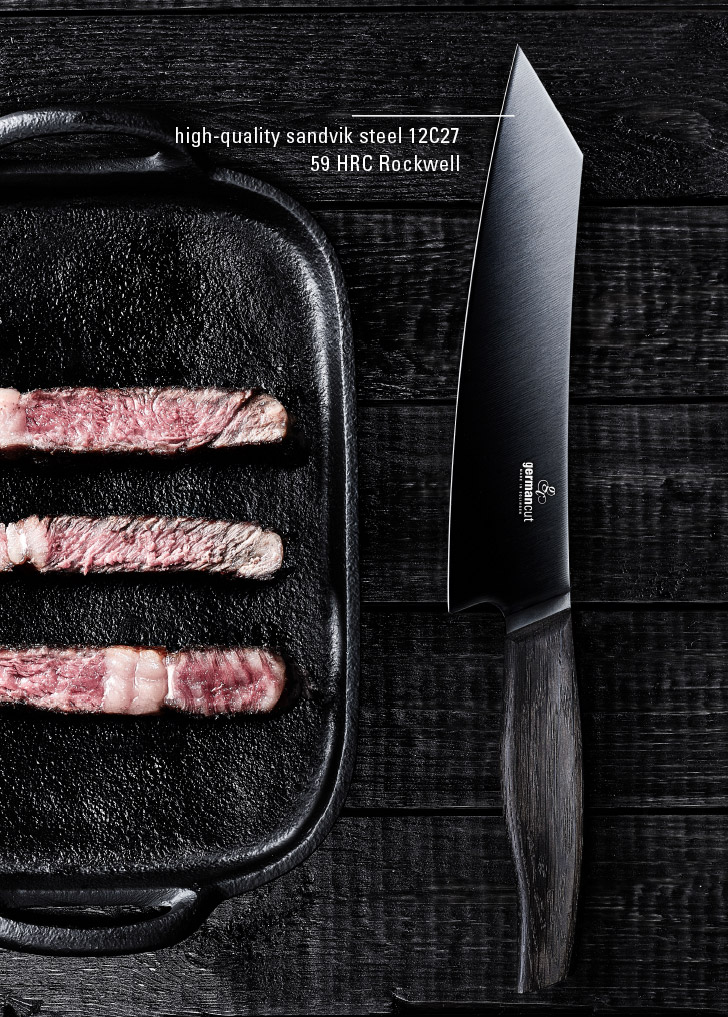 MEATLOVER, THE CHEF'S KNIFE
Food deserves to be handled right, which is why we developed our top quality MEATLOVER chef's knife – you can get the perfect cut on more than just meat with our MEATLOVER.
Our knives are top quality manufacturing artistry Made in Germany, specifically in Solingen, the City of Blades. The MEATLOVER, made from Swedish Sandvik 12C27 steel, delights with its exceptional design – a felicitous symbiosis of chef's knife and Santoku. It is the perfect all-rounder in the kitchen. Its blade, tempered to 59 Rockwell, is ground with high precision and sharpened on both sides. The blade guarantees perfect cutting performance.
HANDLES AND ERGONOMICS
The handle of our high-quality kitchen knife also contributes to the unique look of the MEATLOVER. Elegant brownish to black bog oak or expressively light olive give the chef's knife a perfectly shaped style. Thanks to the use of natural wood, every handle and every knife is a unique piece – pieces of oak which survived for thousands of years in bogs are used for the bog oak wood, the olive wood wins people over with the expressive grain of the wild trees. Wood is a natural product, and the colour and grain may vary. Of course, we know that aesthetics are not the be all and end all, which is why the handle on all of our kitchen knives is ergonomically shaped and therefore sits beautifully in your hand while working – with the perfect balance between the handle and the blade.
DLC COATING
The MEATLOVER is available in two variants. Either as a chef's knife with no coating or, if desired, you can get the chef's knife with a high-quality diamond-like carbon coating. This wafer-thin carbon layer optimises the properties of the blade, allowing for high strain. The special coating also ensures particular resistance to alkalis, extreme temperatures and temperature fluctuations and results in high scratch resistance and a low coefficient of friction for the chef's knife. The DLC technology not only optimises the cutting performance, it is also a finish that gives the blade an unmistakeable black colour. This look is unique to blades with a diamond-like carbon coating – unparalleled design and unbelievable sharpness.
Take a look at our other top quality items too: the BREADLOVER bread knife, the CHEFSTALK professional chef's knife and our refined cutlery sets. You can find lots of information about our kitchen knives and useful information about blade size and taking care of your knives, as well as information about our cutlery sets and our accessories on our blog.