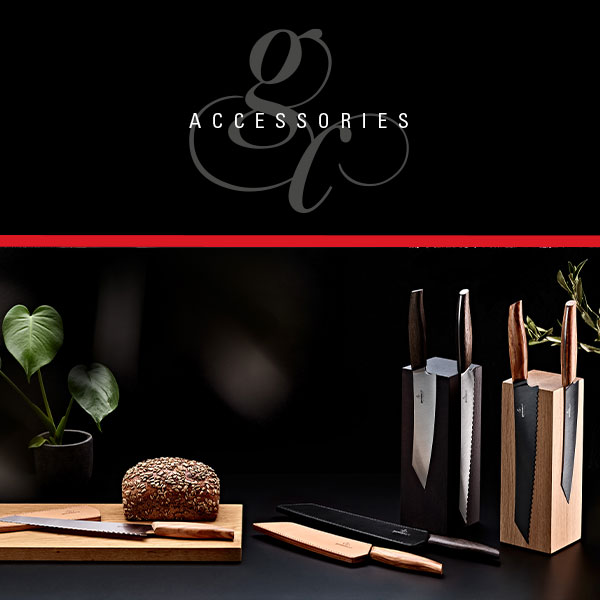 STYLISH ACCESSORIES –
FIRST-CLASS EXTRAS FOR KNIVES AND KITCHEN
Our noble knife blocks made of wood and high-quality leather scabbards
protect the sharp blades and convince with an elegant look.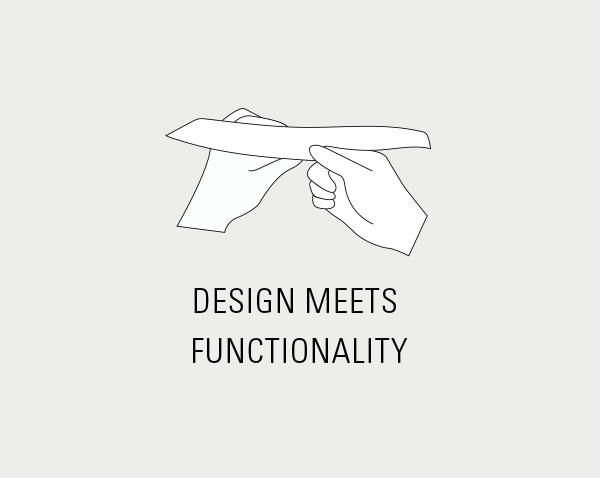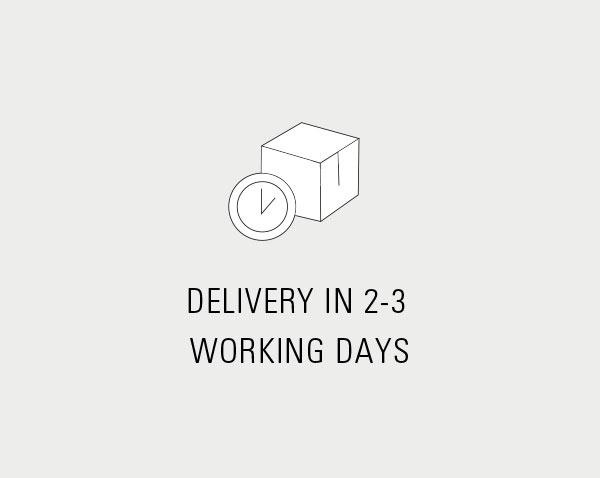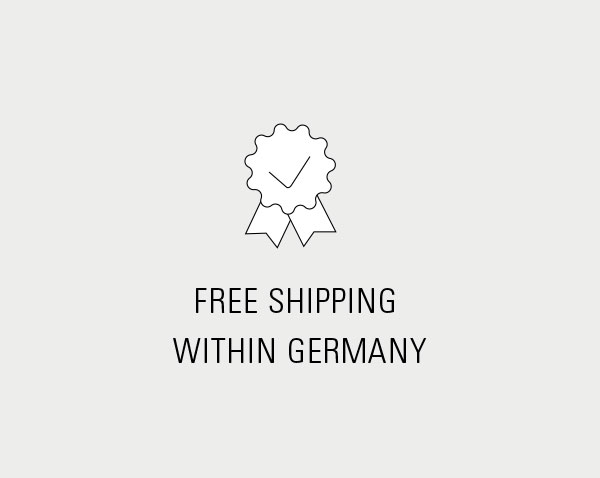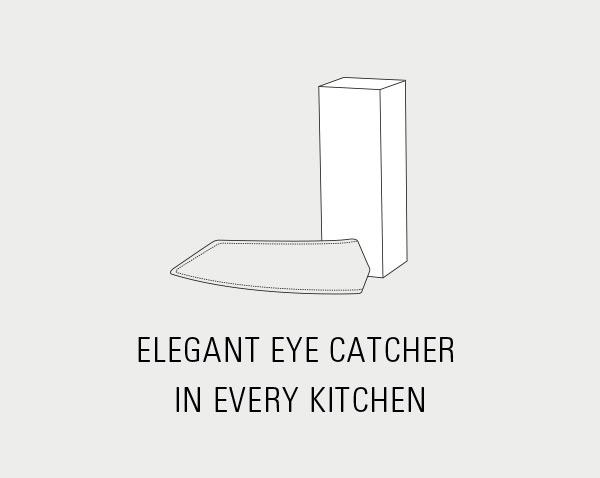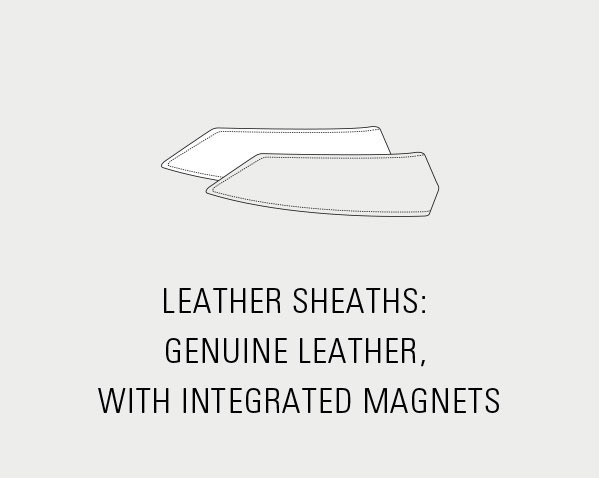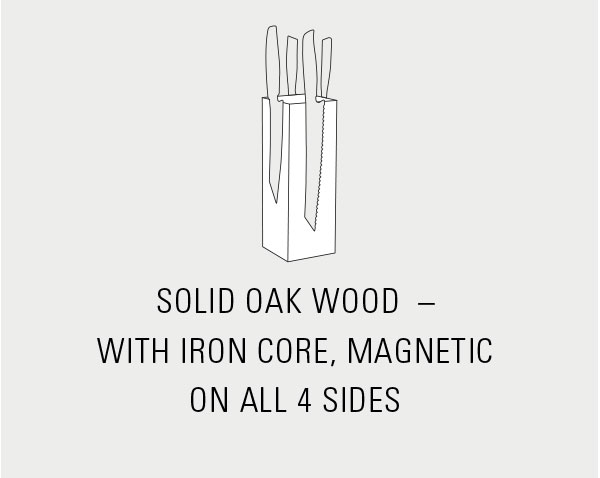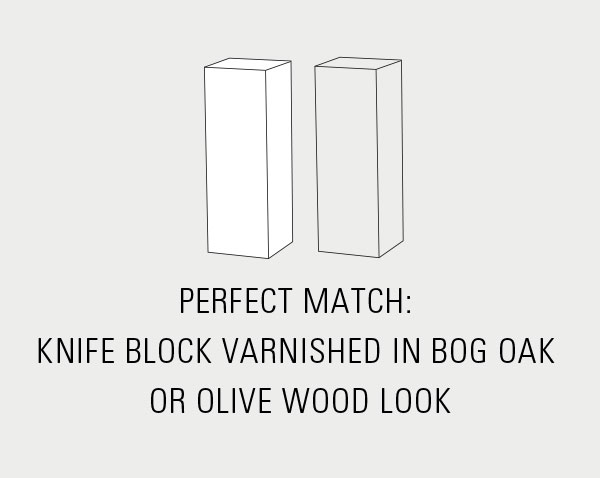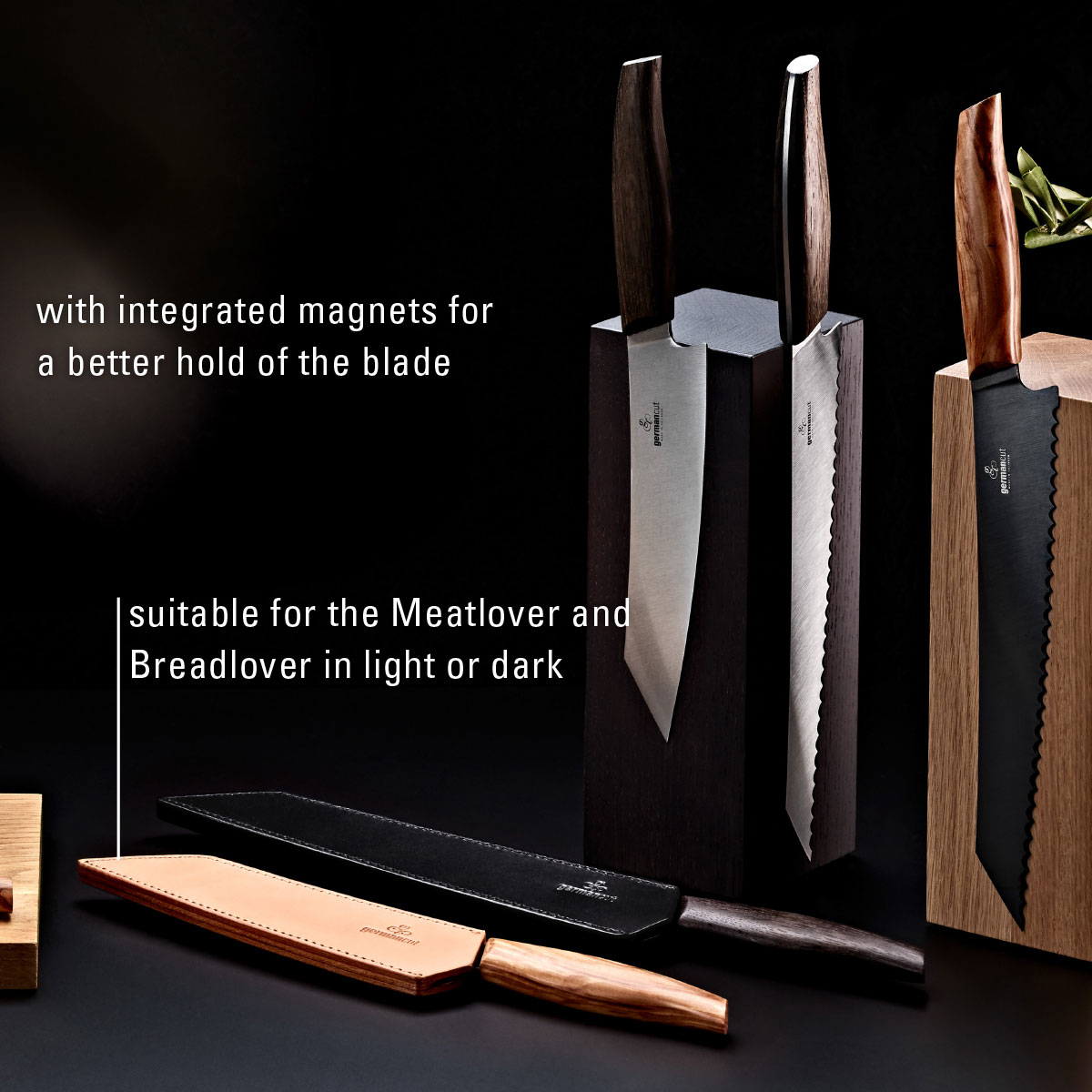 EXQUISITE ACCESSORIES –
HHIGH-QUALITY LEATHER SHEATH
AND STYLISH KNIFE BLOCK
High-quality ingredients deserves to be handled and cut with a first-class kitchen knife.
But excellent knives – like our chef's knife MEATLOVER, slicer CHEFSLOVER, vegetable knife VEGGIELOVER, bread knife BREADLOVER and our FAVORITES – also deserve to be stored appropriately and safely.
This is exactly why we have developed our exquisite and practical accessories: the leather sheath for the Meatlover and the Breadlover and the knife block with a simple and particularly high-quality design.
PRACTICAL, SAFE AND PERFECT IN FORM
Our stylish leather sheath is made of genuine leather and has an integrated magnet to hold the blade securely.
The shape of the leather sheath matches that of our MEATLOVER and BREADLOVER perfectly – the color also matches perfectly, because the black of the dark leather sheath harmonizes perfectly with the dark color of the bog oak handles and the light leather with the light olive wood handles.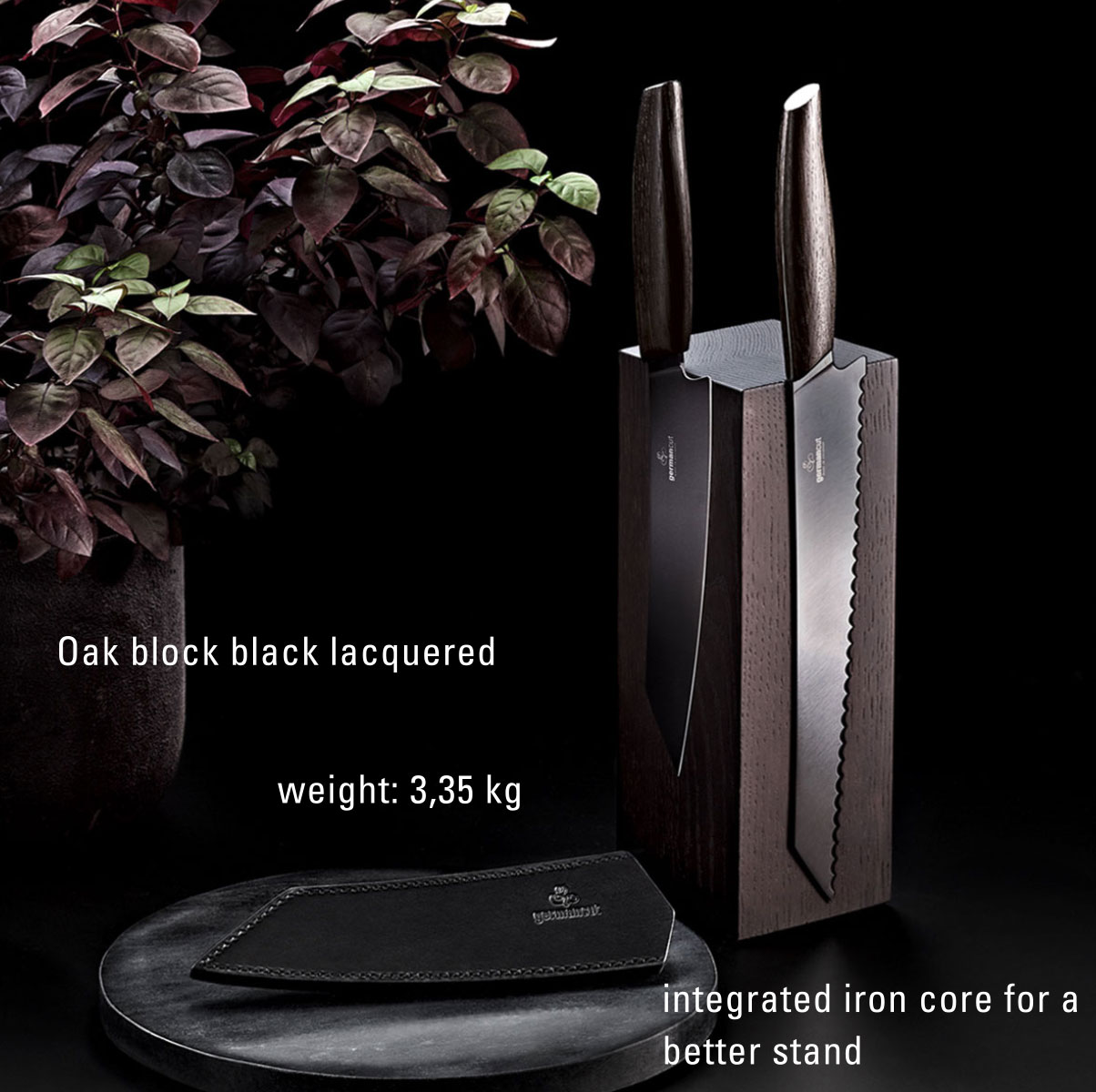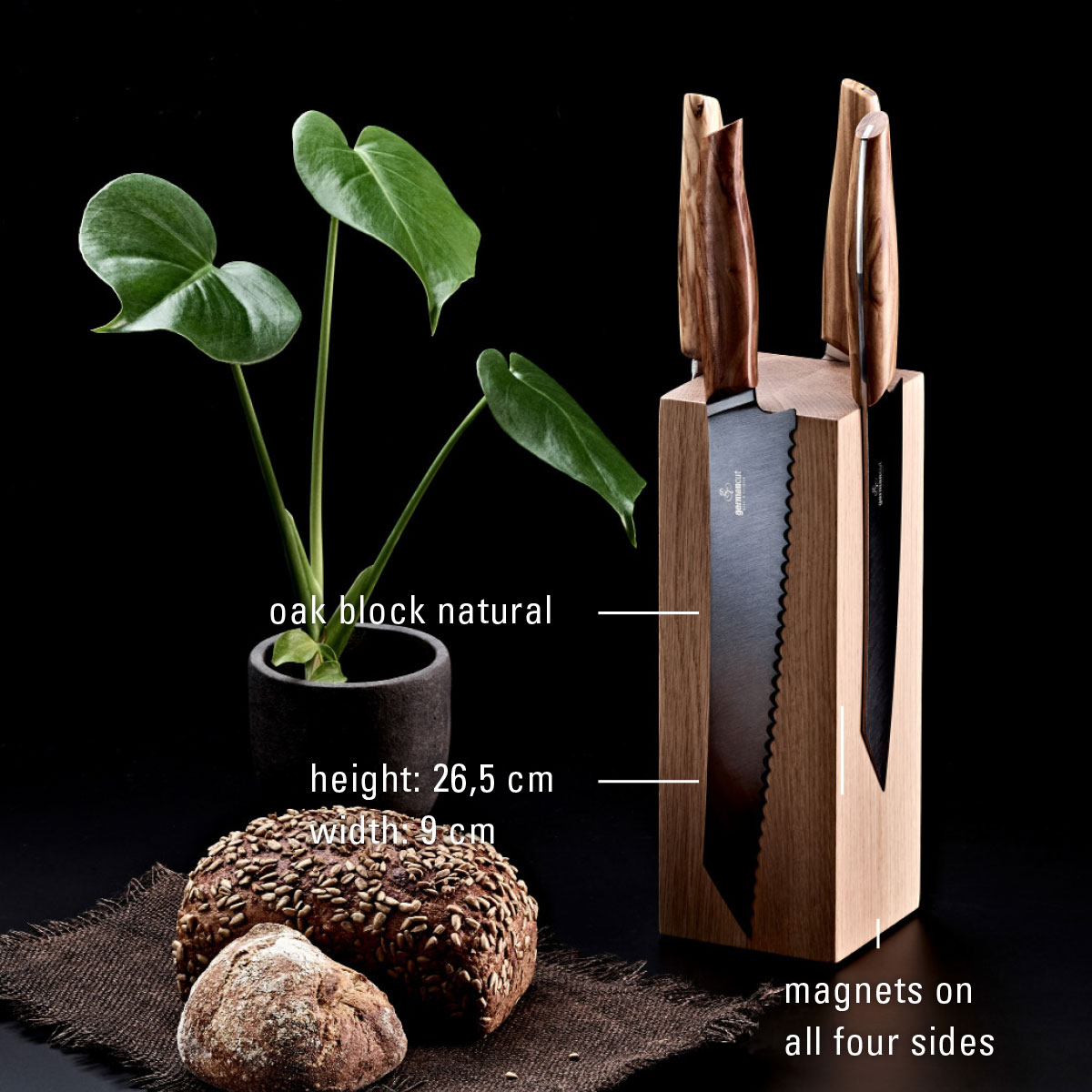 STYLISH OAK WOOD KNIFE HOLDER: OUR KNIFE BLOCK
The exclusive Germancut knife block impresses with its downscaled design and maximum effect. It is made of solid oak wood, and a steel core further increases the stability.
The integrated magnets in the knife holder are located on all four sides and ensure a firm, secure fit of the knives. The blades can be pulled off the knife block in one flowing movement over the back of the blade and find their way back to their place almost by themselves after use. First-class knives deserve to be presented in style.

The knife block wonderfully matches our handles also in terms of its looks. The knife holder is available in two versions: varnished in natural, light oak or in noble, dark bog oak look. On request, our Germancut knife block can also be purchased directly with our FAVORITES set.
Elegant eye catcher
Storing chef's and kitchen knives not only safely, but also stylishly – this is the exact purpose for which we have developed and designed our exclusive Germancut knife block and our leather sheath, no more and no less. This is the perfect way to show off your high-quality knives.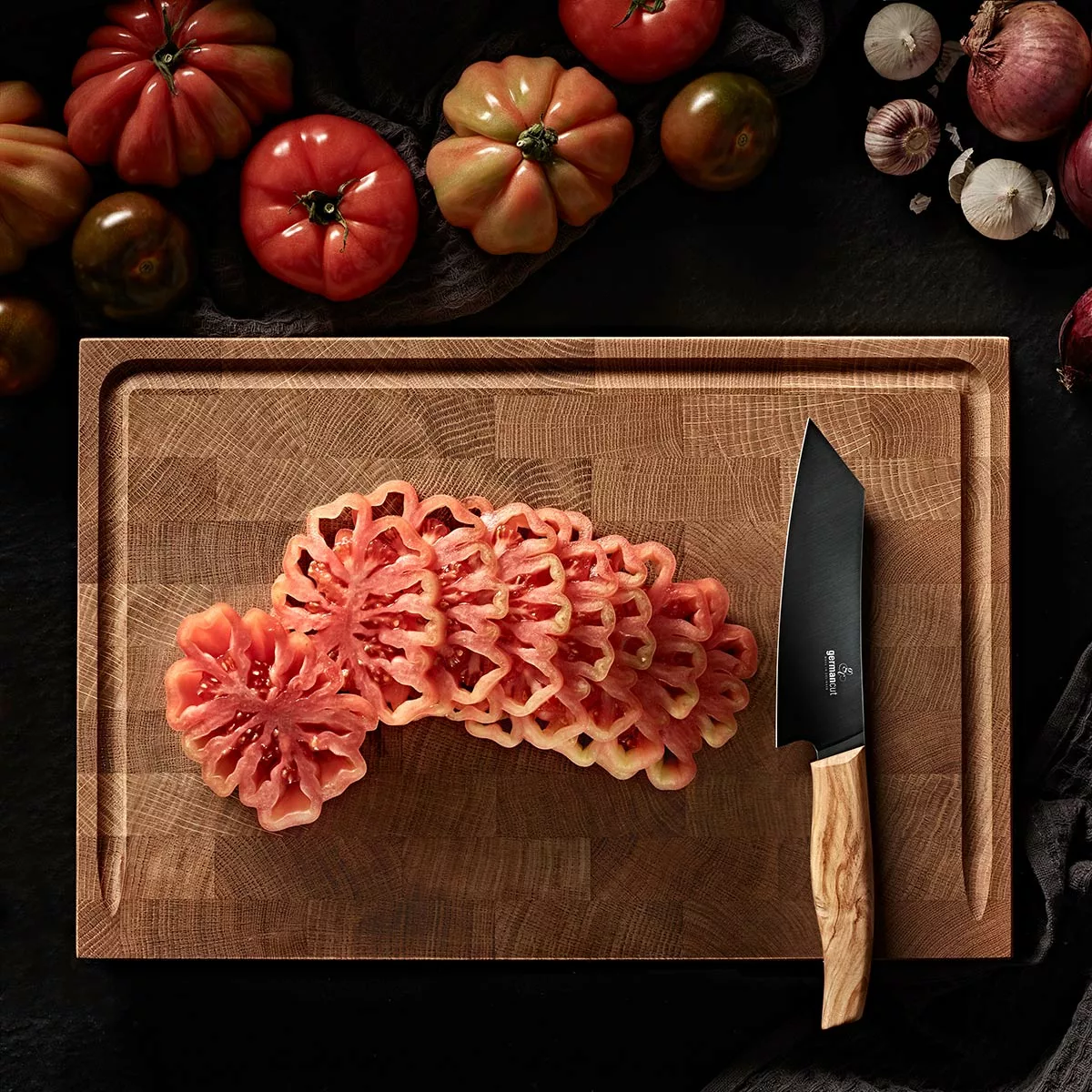 Knife-protecting cutting board
The perfect basis for working quickly, safely and accurately with your chef's knives. Our Germancut cutting board made of end-grain wood is gentle to your knives.

The height-adjustable feet guarantee a firm seat and safe cutting pleasure even on uneven surfaces. Its elegant look ensures a high-quality look in your kitchen.
Japan's secret of sharpness
The secret key to sharp knives are our high-quality Japanese sharpening stones. Sharpen your high-quality kitchen knives with our Shapton sharpening stone set – for an incredibly pleasant sharpening feeling.

It is not for nothing that these stones are highly valued by sharpening enthusiasts all over the world.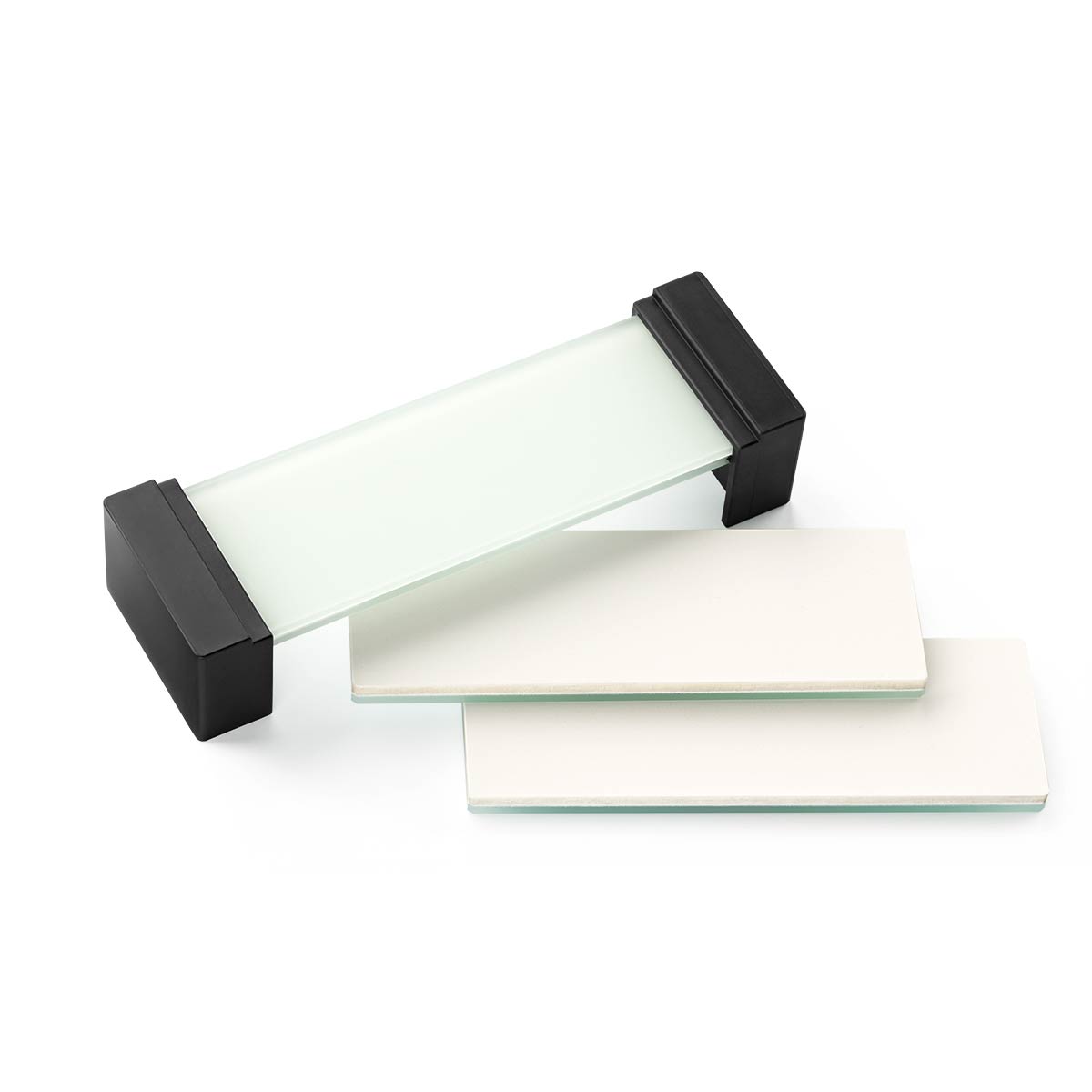 Recommended by professionals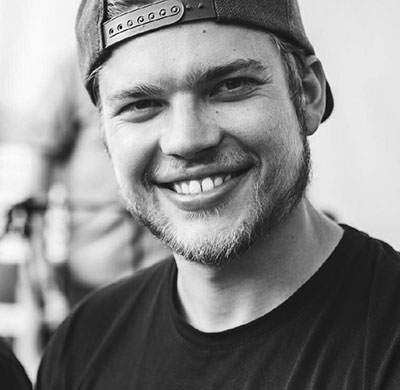 DerGrilltyp (The grill guy) – Yannik Vinke
"The knife block is an awesome eye-catcher; the light solid oak together with the four DLC-coated knives makes a really good impression!"

Yannik Vinke, aka "DerGrilltyp," mixes up the BBQ scene on TikTok and Instagram – and inspires over 250,000 followers with creative recipes.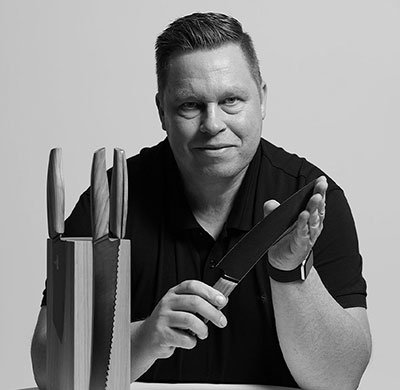 BigBBQ – Oliver Gawryluk
"Just like a good grill, beautiful chef's knives must be shown off. For me, the knife block is therefore a really great add-on from Germancut. It looks great, and allows for perfect storage."

Oliver Gawryluk aka "BigBBQ" is a "cult" blogger with over 300,000 barbecue fans on Instagram – and an absolute passion for the best products.
FIRST-CLASS KNIVES AND EXCELLENT SETS
You are curious about our exclusive accessories and want to bring style, elegance and quality to your kitchen? Then our leather sheaths and our knife block are just right for you. Do you also value high-precision tools? Take a look at our knives and cutlery – Made in Germany. Our MEATLOVER, CHEFSLOVER, VEGGIELOVER, BREADLOVER and our FAVORITES set are real quality work from Solingen, the City of Blades.