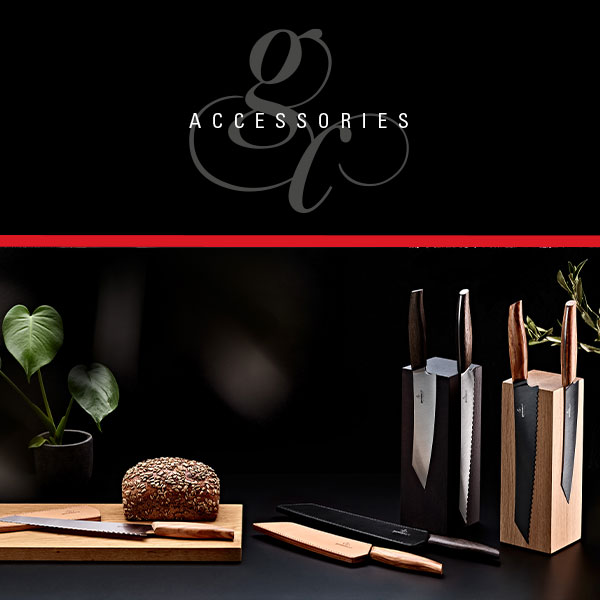 STYLISH ACCESSORIES –
FIRST-CLASS EXTRAS FOR KNIVES AND KITCHEN
Our noble knife blocks made of wood and high-quality leather scabbards
protect the sharp blades and convince with an elegant look.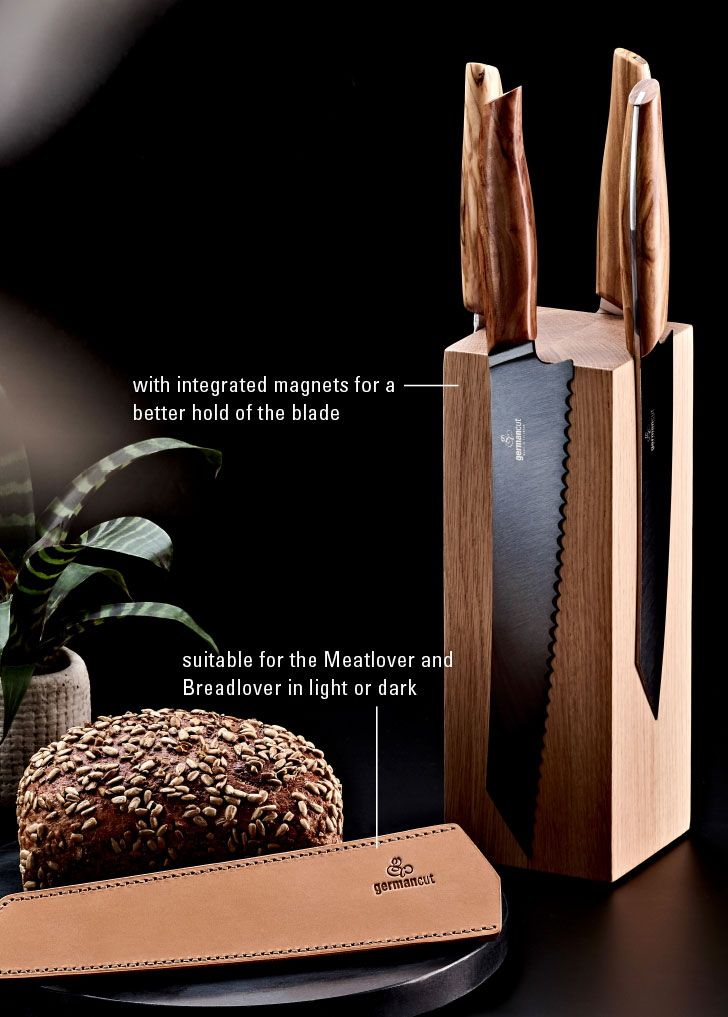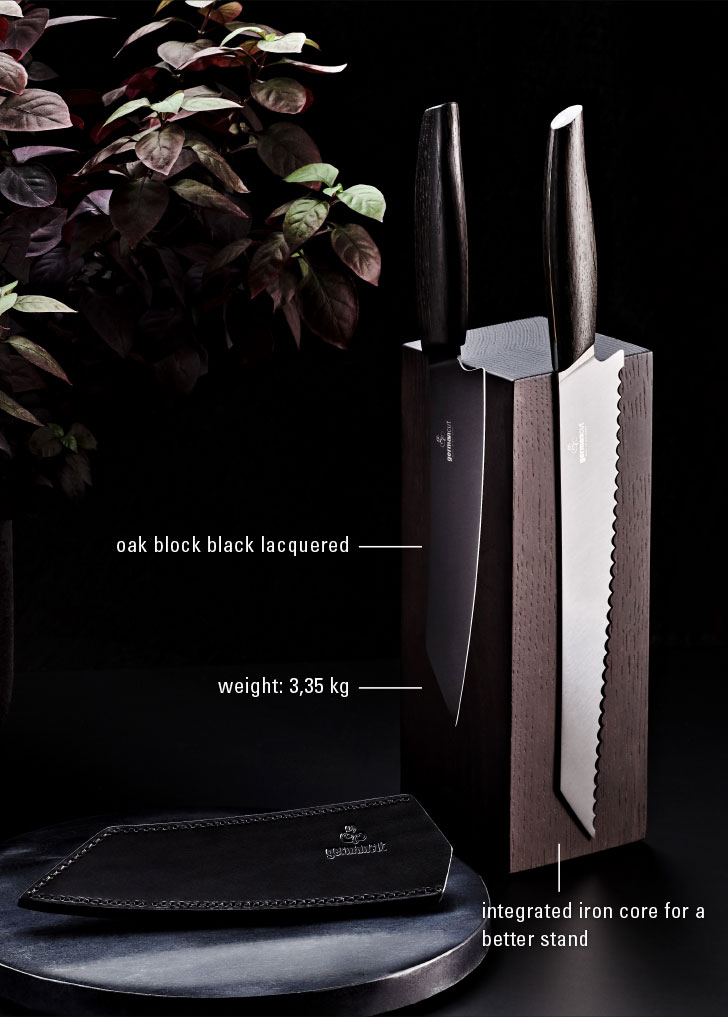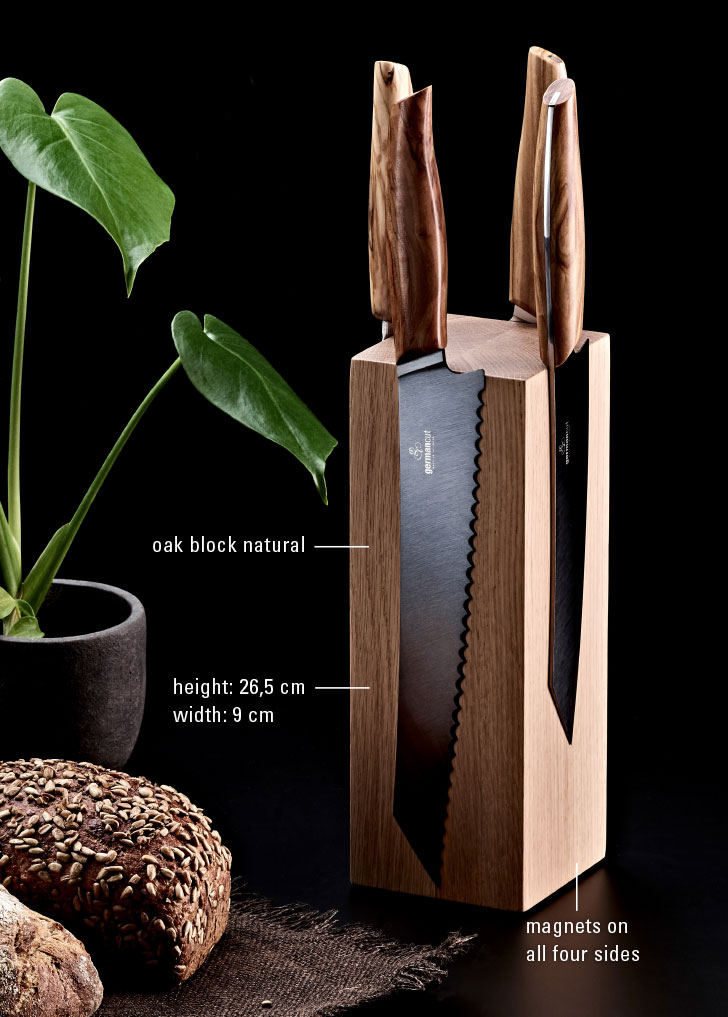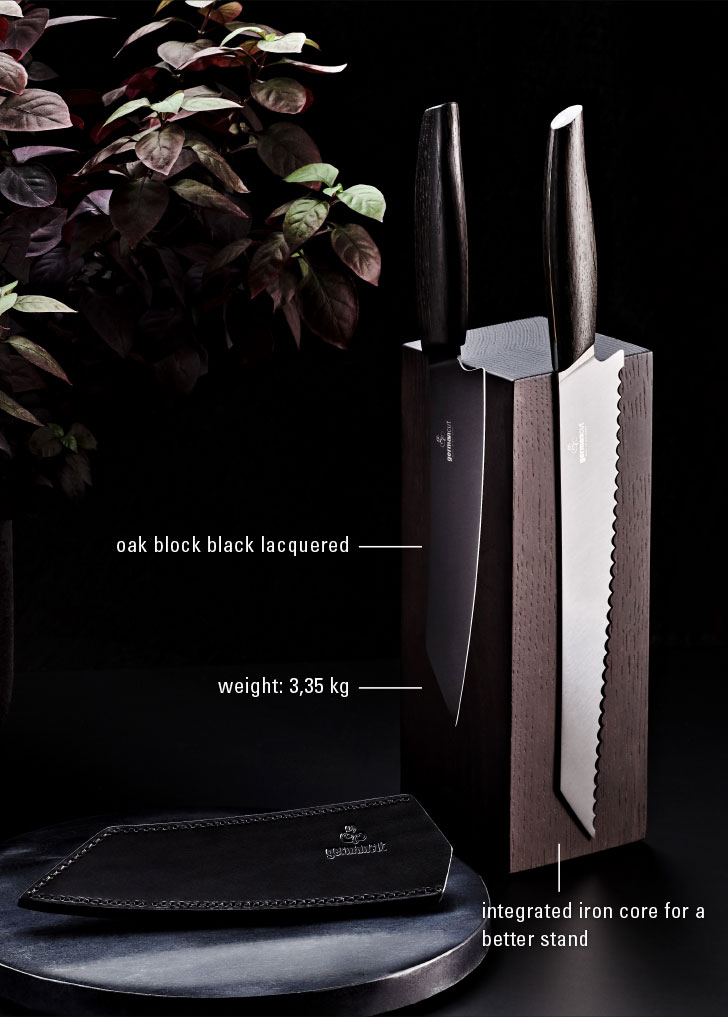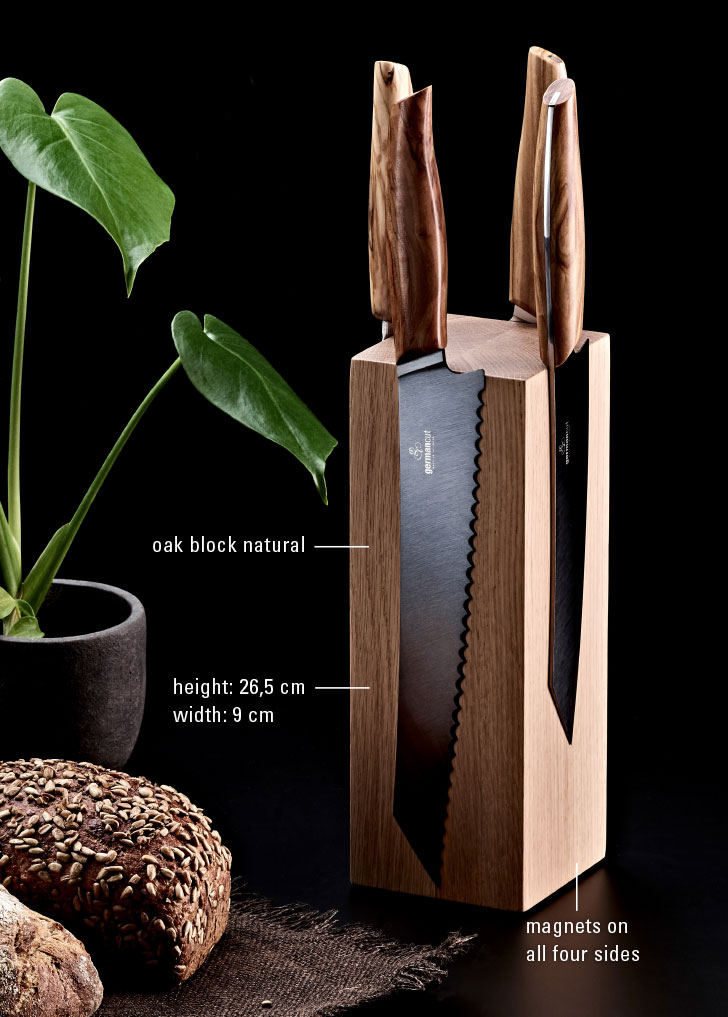 NOBLE ACCESSORIES –
HIGH QUALITY LEATHER SHEATH
AND STYLISH KNIFE BLOCK
Exquisite gourmet food is always based on excellent knives. High-quality food deserves to be processed with a first-class kitchen knife. But excellent knives – like our chef's knife MEATLOVER, slicer CHEFSLOVER, vegetable knife VEGGIELOVER, bread knife BREADLOVER and our FAVORITES – also deserve to be stored appropriately and safely. This is exactly why we have developed our noble and practical accessories: the supple leather sheath with a rustic touch and the knife block with a simple and particularly high-quality design.
PRACTICAL, SAFE AND PERFECT IN FORM
Safety first in the kitchen, especially when it comes to such sharp, high-precision blades as those of our knives. That's why we also offer matching accessories for our knives: our leather sheaths and our knife blocks.
With such high quality knives, however, the accessories must also look good and harmonize visually with the knife handles as well as stylishly fit into the ambience of any kitchen.
With our exclusive Germancut equipment – the knife block and the leather sheath – the high-quality knives are practically stowed away and always ready to hand. In addition, the blades are protected from dulling and the risk of injury to the sharp edge is also reduced. In addition, the knives are set in scene and presented, for example, on our knife block beautiful and visible.
HIGH QUALITY LEATHER SHEATHS
Our stylish leather sheath is made of genuine leather and has an integrated magnet to hold the blade securely. The shape of the sheath is perfectly adapted to our MEATLOVER and BREADLOVER – just as fitting is its color combination, because the black of the dark leather sheath harmonizes perfectly with the dark color of the bog oak handles and the light leather with the light olive wood handles. However, the contrast of light leather and dark wood or dark leather and light wood also exerts a special charm.
STYLISH OAK KNIFE HOLDER:
OUR KNIFE BLOCK
The exclusive Germancut knife block convinces with its reduced design and maximum effect. It is made of solid oak wood, a steel core additionally stabilizes the stability. The integrated magnets in the knife holder are located on all four sides and ensure a firm, secure fit of the knives. The blades can be pulled off the knife block in one fluid motion and find their way back to the knife block almost by themselves after use – where they are clearly visible to everyone, because first-class knives deserve to be presented in style.
The knife block look is also wonderfully in harmony with that of our handles. The knife holder is available in two versions: in natural, light oak and in a noble, dark bog oak look lacquered. Upon request, our Germancut knife block is also included directly in our FAVORITES set.
FIRST CLASS KNIVES
AND EXCELLENT SETS
You are curious about our exclusive accessories and want to bring style, elegance and quality into your kitchen? Then our leather sheaths and knife block are just what you need.
You also value high-precision tools? Take a look at our knives and cutlery – Made in Germany. Our MEATLOVER, CHEFSLOVER, VEGGIELOVER, BREADLOVER and our set FAVORITES are real quality work from the blade city Solingen.