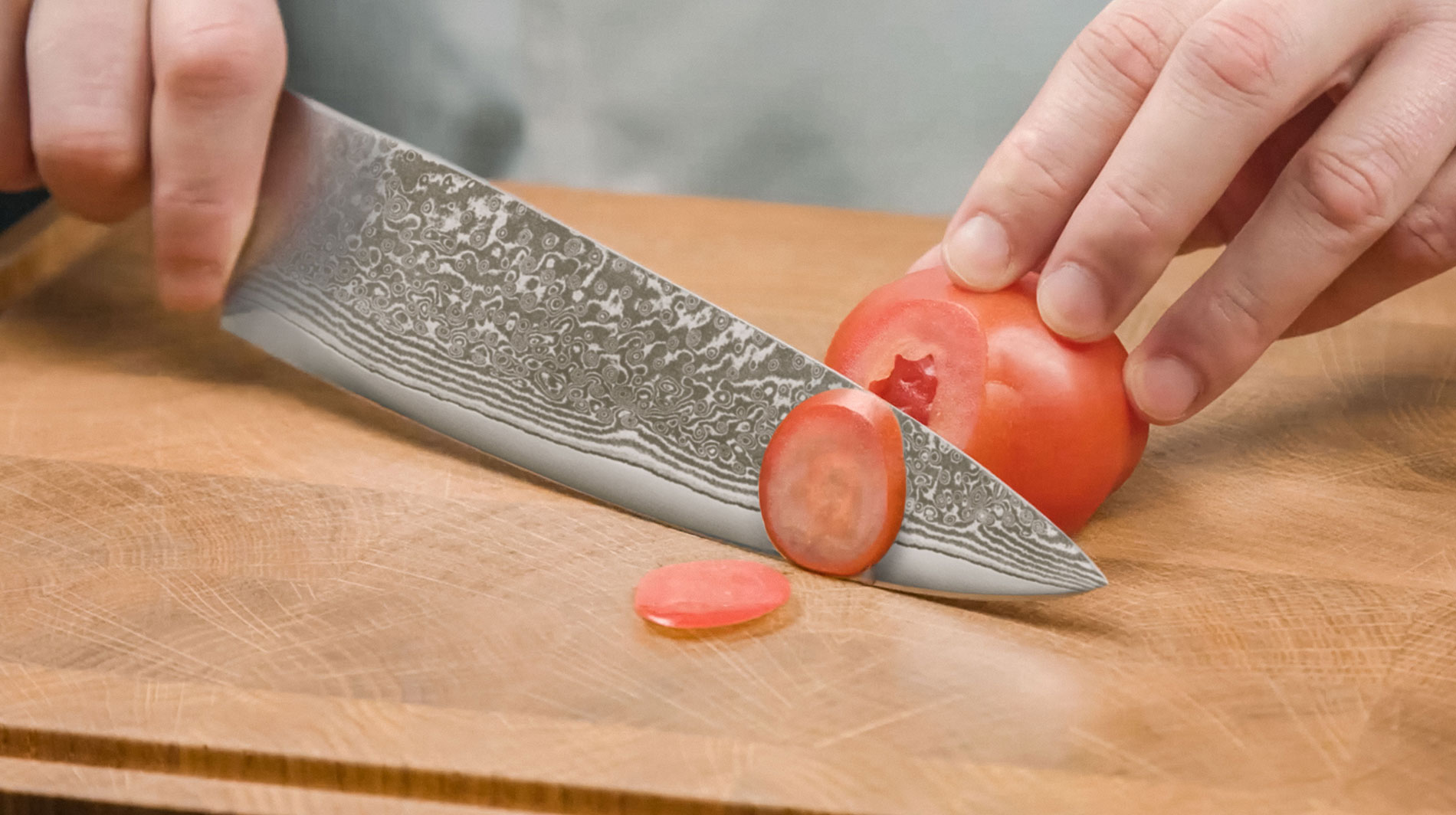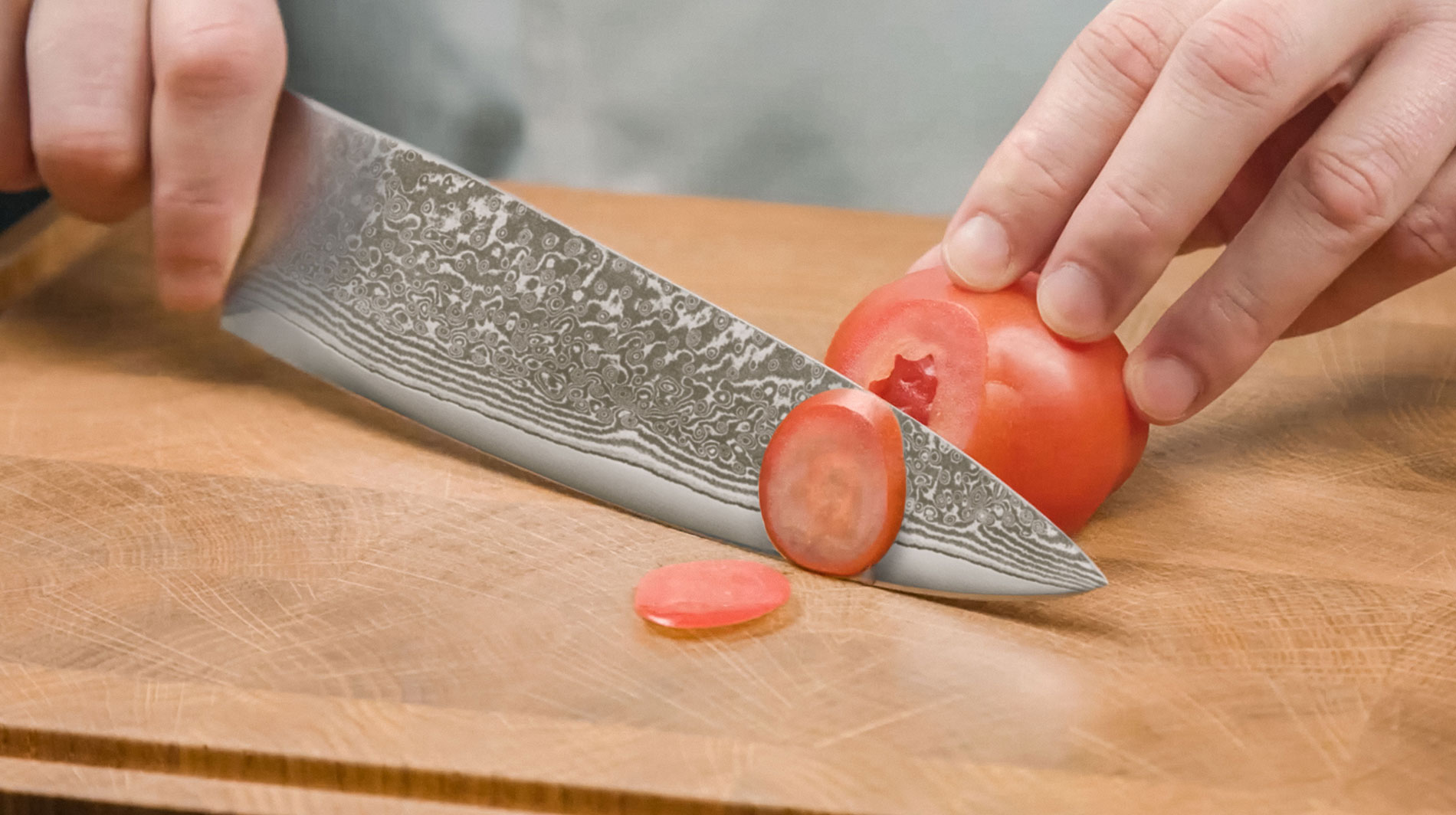 Safety First: Safety always comes first – also in the kitchen and even more so when you take your cooking knife to hand.
That is why we would like to dedicate our first blog post to the correct and, above all, safe handling of knives. Our cooking knives and bread knives are very high-quality products and therefore also extremely sharp. To get you started, we have put together seven basic steps for the perfect handling of our knives.
First step: Fix your cutting board
The cutting board is the partner of every knife, therefore the board as well as the knife is available in all imaginable sizes and shapes. The cutting board serves as protection for the underside of the knife and is easy to clean. During use it is important that the cutting board has a firm grip, because if the board slips away during cutting, this can have bad consequences.
A simple trick to hold the board in place and prevent it from slipping away is to place a damp kitchen cloth under the board. The damp cloth will make the cutting board stick better to the undersurface and prevent it from slipping away. With this safety, you can concentrate on the knife and cutting in peace.
Second step: Take your fingers out of the danger zone
The enormously sharp blades of chef's knives glide easily through vegetables, fish and meat and unfortunately also through fingers that get in the way. That is why a safe cutting technique is indispensable.
To protect your fingers, you should therefore learn to take your fingertips out of the danger zone. To do this, the hand that holds the vegetables or meat is formed into a claw. The fingers are bent at the middle joint so that the knife slides past the finger. This technique has another advantage and it allows you to work precisely, because you can determine exactly how wide your cuts should be.
Third step: Leave the tip of the knife on the cutting surface
There are many different ways to cut food into small pieces, but we prefer a safe way. For example, if you want to cut carrots or cucumbers into fine slices, it is best to leave the tip of the knife firmly on the cutting surface and only move the back of the knife up and down with slight forward and backward movements. This technique also allows you to achieve high precision slicing.
Fourth step: Do not exert too much pressure
If you exert too much pressure on the chef's knife or any other knife while cutting, you increase the risk of slipping, especially if you use your second hand for help. Never support your cutting hand by taking your holding hand to exert more pressure or place it on the knife blade to strengthen it, as this increases the risk of injury.
Fifth step: Transport your chef's knife safely
Never run with the knife through your cooking area, you only have to trip or someone runs into the open blade. Put the knife down safely and only then remove yourself from the cutting surface. If you do have to transport your knife through the kitchen, hold it with the blade down so that you do not hurt anyone, including yourself.
Sixth step: Store your chef's knives carefully
There are two things to keep in mind when storing your chef's knives, kitchen knives and all other blades safely. Firstly, the blades should be kept well locked in case children or unauthorized persons could gain access to these knives. Secondly, you should make sure that the blades do not wear out, which would be the case if they were left unprotected in a drawer, for example. It is therefore best to invest in a knife protector to protect your knives from wear and tear – knife sheaths (such as the leather sheaths of our ChefsTalk Knife Profi Chef's Knife) or knife blocks are suitable for this purpose. The knife block has an additional decorative character.
Seventh step: Pay attention to the quality of your knives
An enormous safety factor is the quality of the knives. With a good quality you also reduce the risk of injury from a chef's knife. Sharp knives are often safer than blunts, so make sure that your chef's knife is sharpened about once a year.
The right knife for the right products
Choosing the right knife is essential for the correct handling of a knife. Chef's knives and kitchen knives, like the Japanese Santoku, are true all-purpose weapons. They are suitable for many different products, as is the bread knife, which with its serrated edge is particularly suitable for hard surfaces. A set of these knives covers the basic equipment for every kitchen.
We at Germancut offer you the best quality for your knives. Our knives are high-quality designer pieces and Made in Germany – namely the knife capital Solingen. Our offers in the knife shop range from the professional chef's knife "ChefsTalk Knife" to the kitchen knife set "Talents". Our shipping department ensures a smooth delivery. A small tip: our high-quality cutlery sets are also worth a look – because after cooking comes the pleasurable meal, which is even more enjoyable with fine cutlery.
Further information can be found in our future blog posts / knives blog, here you will find interesting facts about the whole world of chef's knives, cutlery & Co. If you have any questions regarding our products, please do not hesitate to contact us.